The platform for
True Hybrid
events
Agorify is the leading True Hybrid self-service technology helping you connect your onsite and online event experience in one single platform.
Trusted by the most innovative events
Watch Agorify's
True Hybrid Features in Practice
At Agorify, we are firm believers that the future of the event industry is hybrid. Our flagship product is our True Hybrid event solution which enables event organizers to simultaneously give their events two dimensions: onsite and online.
To achieve that, we have built a number of features that address and solve each and every challenge that hybrid event organizers might face throughout the execution process. To see how Agorify acts as a real True Hybrid event companion in practice, make sure to check out the following video.
Learn how to execute Safe in-person events.
Watch our webinar.
How to use Agorify to re-think your in-person event experience, adapt your execution to your Health and Safety Protocols and provide safe, flexible (online/onsite) and unique low-contact event experience.
Register for free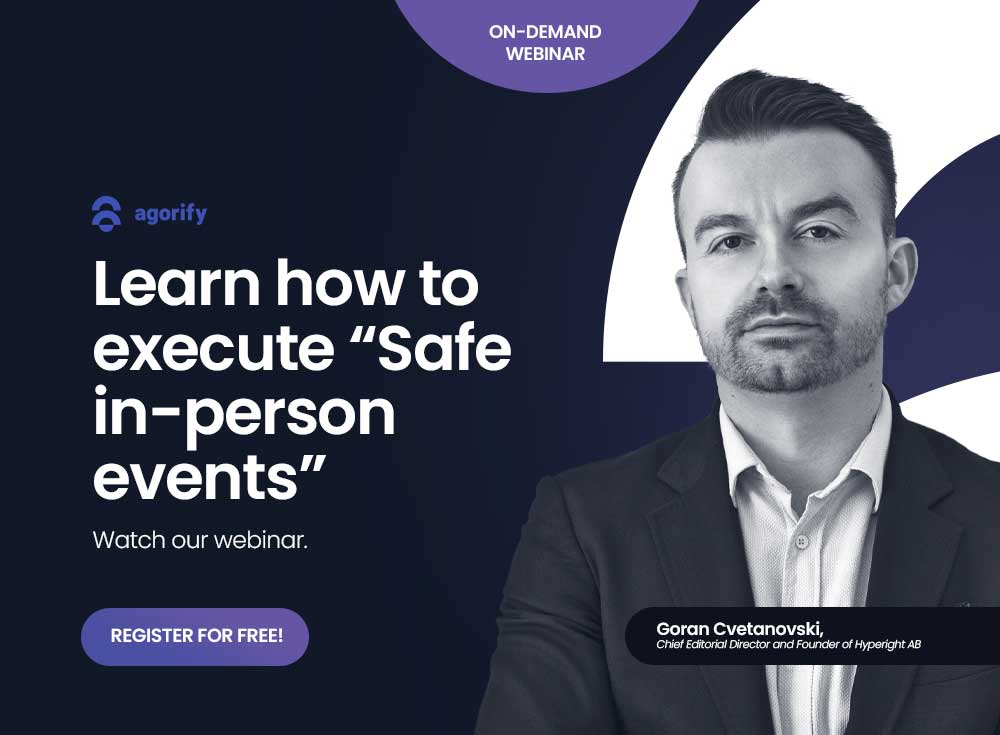 All-in-one event platform
Use Agorify to connect all your physical and digital event features in one single platform.
Registration & Ticketing

Easy to set up registration and ticketing solutions that your clients can use to manage delegate registrations and revenue. In addition, it is fully connected to the other capabilities in the platform.

Check-in & Badge Printing

Connect the event platform with the onsite cost-effective physical check-in and badge printing hardware to provide the smoothest self check-in registration event experience.

Scanning & Lead generation

Connect the onsite physical badge scanning and the online contact sharing and help exhibitors gather all their leads in one place.

Schedule meetings

Get the visitors to book 1-2-1 meetings and provide them the opportunity to choose between meeting onsite or online via the app.

Exhibitor Admin Page

Give all exhibitors the power to control and manage their online and onsite lead generation and their staff in real-time.

Mobile & Web Event App

Provide visitors easy access to the event platform from any device, mobile or web.

AV Live Streaming

Plan and schedule pre-recorded and live stream sessions. Easily connect your onsite AV technology with Agorify and turn your venue into live stream studio.

Agenda

Provide an easy-to-navigate and personalized event schedule with the flexibility to access and edit at any point in time.
Create flexible, scalable and profitable hybrid events
Agorify is an event management platform that could be used by any event organization, agency or venue center that aims to quickly transition from hosting onsite events to hosting online and hybrid events, or for those that are simply looking to increase their revenue by monetizing and adding digital event features to their existing physical services.
Want product news and updates?
Sign up for our newsletter to stay up to date.
For event organizers and agencies
How to monetize True Hybrid events
Hybrid events are a perfect opportunity for you as an event organizer to grow your audience, enlarge your event and increase revenue while providing an event experience that will satisfy both your onsite and online visitors. From small internal events to large exhibitions, festivals and tradeshows, Agorify equip you with a simple and automated toolkit that fuses your onsite and online format into one platform. Thus, it provides you with ultimate flexibility and control of your event execution.
Grab a copy of the Agorify Hybrid Event Monetization Guideline and learn how to start organizing your first True Hybrid Event with Agorify today.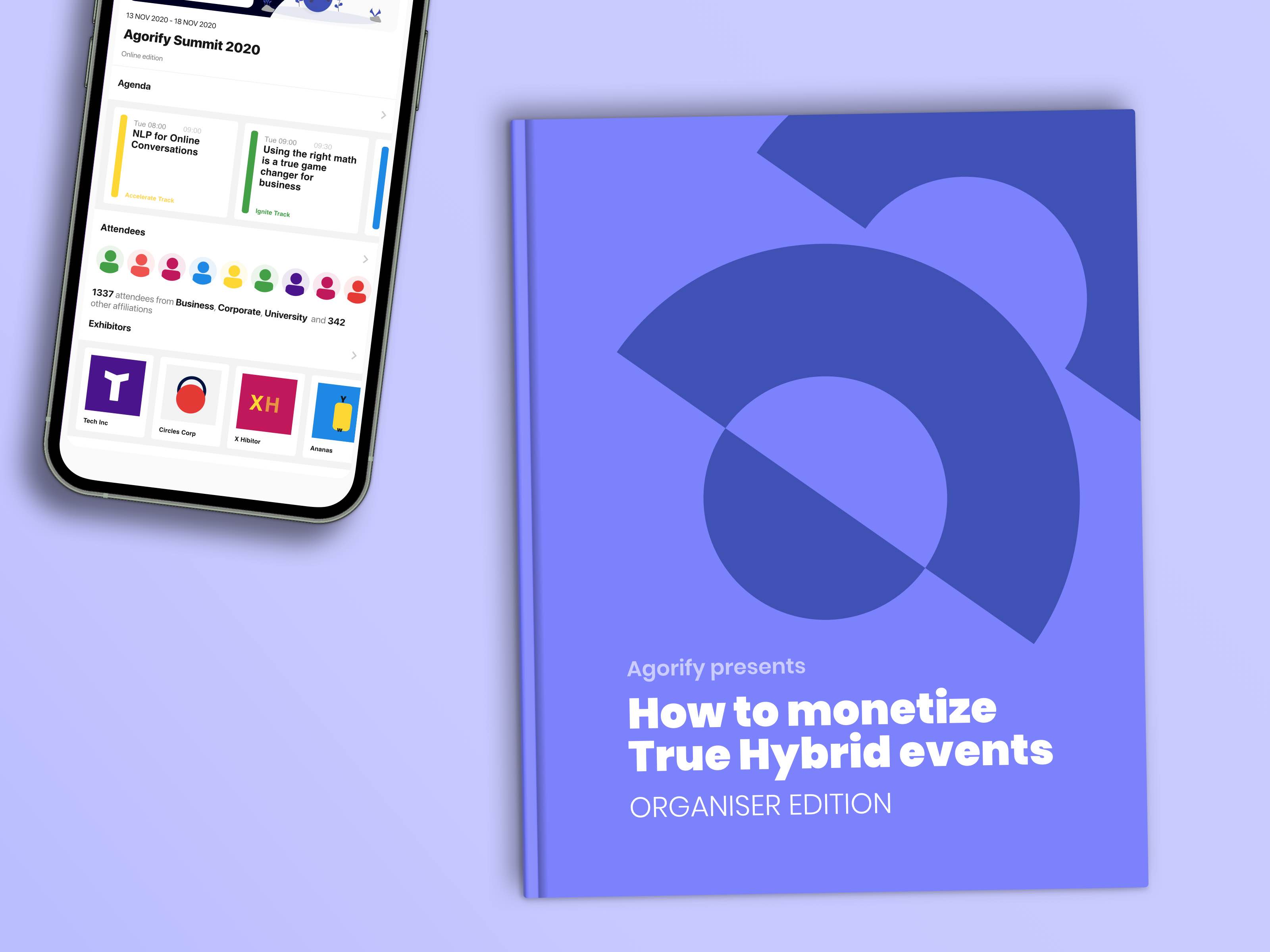 Boost your event experience.
Start using Agorify today.
Boost your customer event experience and increase your revenue by monetizing and adding digital event features to your existing physical event services.
Sign up for free