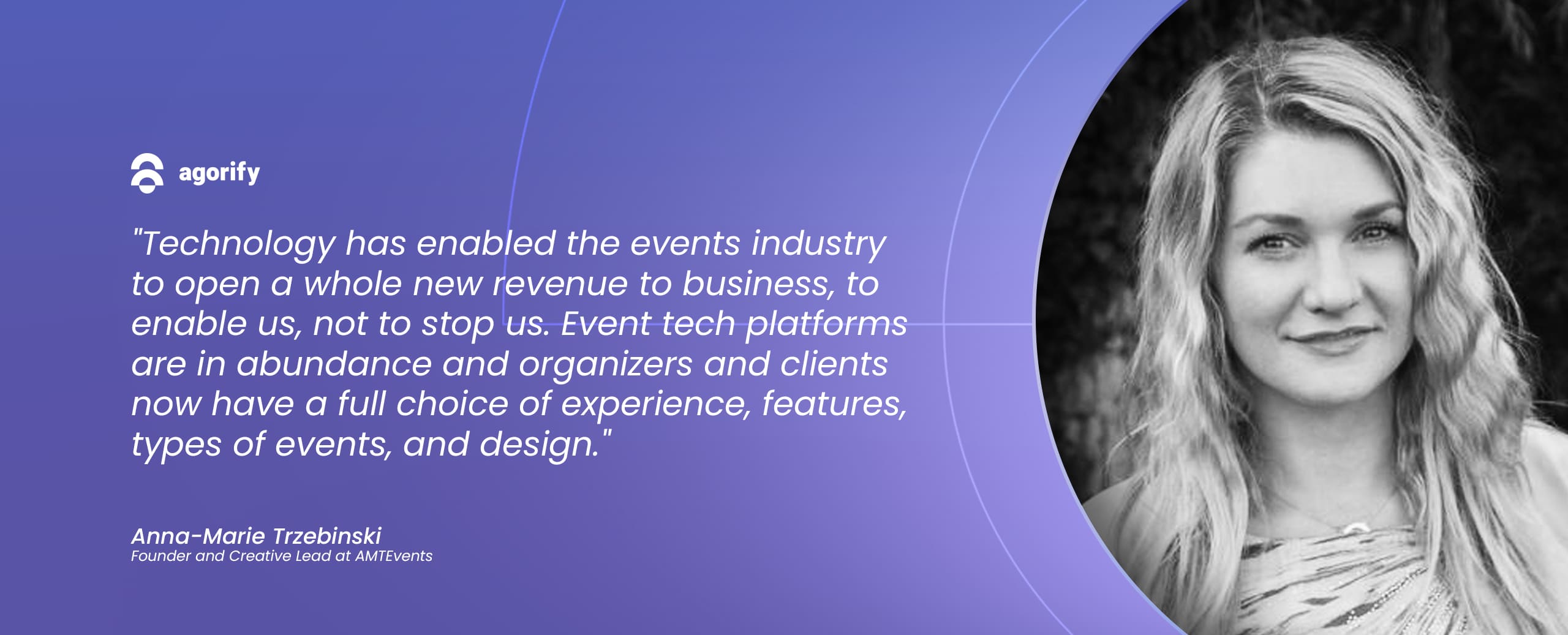 At Agorify, we are firm believers that the event industry could scale up rapidly if we share and exchange knowledge. This is the exact reason why we are conducting interviews with some of the most brilliant minds in the industry. This week, we are sharing with you our interview with Anna-Marie Trzebinski - Founder and Creative Lead at AMTEvents and one of the elected "100 Most Influential People in the Event Industry" by Global Eventex Awards.
With over 15 years of experience in the event industry, here is what Anna-Marie shared with us in this interview:
Please tell us more about your career in the event industry.
Anna-Marie Trzebinski: I have been in the fashion and events industry for 15 years, I fell into events when I started working on London Fashion Week as a stylist. I pursued a contracting career in finance and made my way to balancing creativity and agency work on the side which is where I found my passion. There I had creativity control and a clear direction on the career ladder and income. I have always had a high drive to succeed and to be happy in my career and life, which to me come hand in hand. I love events as I get to see a happy client, audience or customer. For me it is like the fruition of my work and vision.
Which professional achievement are you most proud of?
Anna-Marie Trzebinski: I am most proud of succeeding in creating my own events agency, AMTEvents, something I have always wanted to do but needed to be brave enough to dive when the time was right. I am proud of myself for always believing in myself and the talent I have for events, which has been confirmed by my clients' feedback and testimonials.
Please tell us more about your organization. (What are its mission, vision, most popular event, biggest achievement, etc.)
Anna-Marie Trzebinski: AMTEvents is a creative events agency with a specialty in the fashion and styling industry. Due to this we have a unique AMT knowledge and we aim to take corporate events to a whole new level. Our event audience experience is important which is why we begin the whole organizing process by looking at the event concept, decor and entertainment followed by the guest event path to ensure they are captured the right way and we have covered all bases. We do this by attacking the detail but not spending a pound more than we need to for clever research, which ensures our clients keep coming back!
How do you determine whether an event was successful or not?
Anna-Marie Trzebinski: We measure this in direct feedback, but also we look at client debriefs and long term data from the event. We set goals and make sure we have set measures to determine their success rate. Overall, if I have a good gut feeling and I am proud of the event, I know we achieved our goal.
Which are the most common mistakes when organizing events?
Anna-Marie Trzebinski: A very profound question... It depends on the industry, what client and the budget. I think it is always important to stick to your client's budget. In addition, it's always good to propose a few different options so that a client can see what value they can gain from spending a little more, however LISTENING to your client is super important. Secondly, personally I would say it is easy to go into tunnel vision on your event if you do not communicate with your team; you can end up running with the concept of the original idea, when actually in reality it may need to be tweaked or redirected. Be open to change, compromise and be flexible, this is the best way forward in events.
What are your thoughts on event technology and its impact on the event industry?
Anna-Marie Trzebinski: Technology was always rapidly impacting business and events and now even more. It can no longer be ignored. Technology has enabled the events industry to open a whole new revenue to business, to enable us, not to stop us. Event tech platforms are in abundance and organizers and clients now have a full choice of experience, features, types of event and design. I don't think you need to go fully into the technical side of things for events if you don't enjoy it or believe in it, after all we all love live events. However, technology should certainly be an option for the client, they should always look at the benefits and consider the return which can be significant when implemented successfully. If you are not an expert or you do not enjoy managing it, get someone who is and does.
What is your thoughts on hybrid events?
Anna-Marie Trzebinski: Again, I think hybrid is a great option. I ran a hybrid wedding during lockdown at a hotel in Mayfair with an English, German and Danish audience. It was a very emotional event.. Although some of the guests were not able to be there in person, including the bride's mother, we were able to ensure the day was special and inclusive for all through the use of an adapted and bespoke platform. We had some heartfelt testimonials and, of course, the photographs speak for themselves as well as many beautiful moments were captured. The venue is now even in partnership with AMTEvents for hybrid events!
About us:
Agorify is an advanced End-to-End True Hybrid Event management platform specializing in midsize to large complex events with multiple stages, engagement features, long event timelines, continued on-demand periods, a large volume of onsite or online attendees and exhibitors, monetization opportunities, and much more. To learn more about the features and benefits of Agorify, Book a demo.