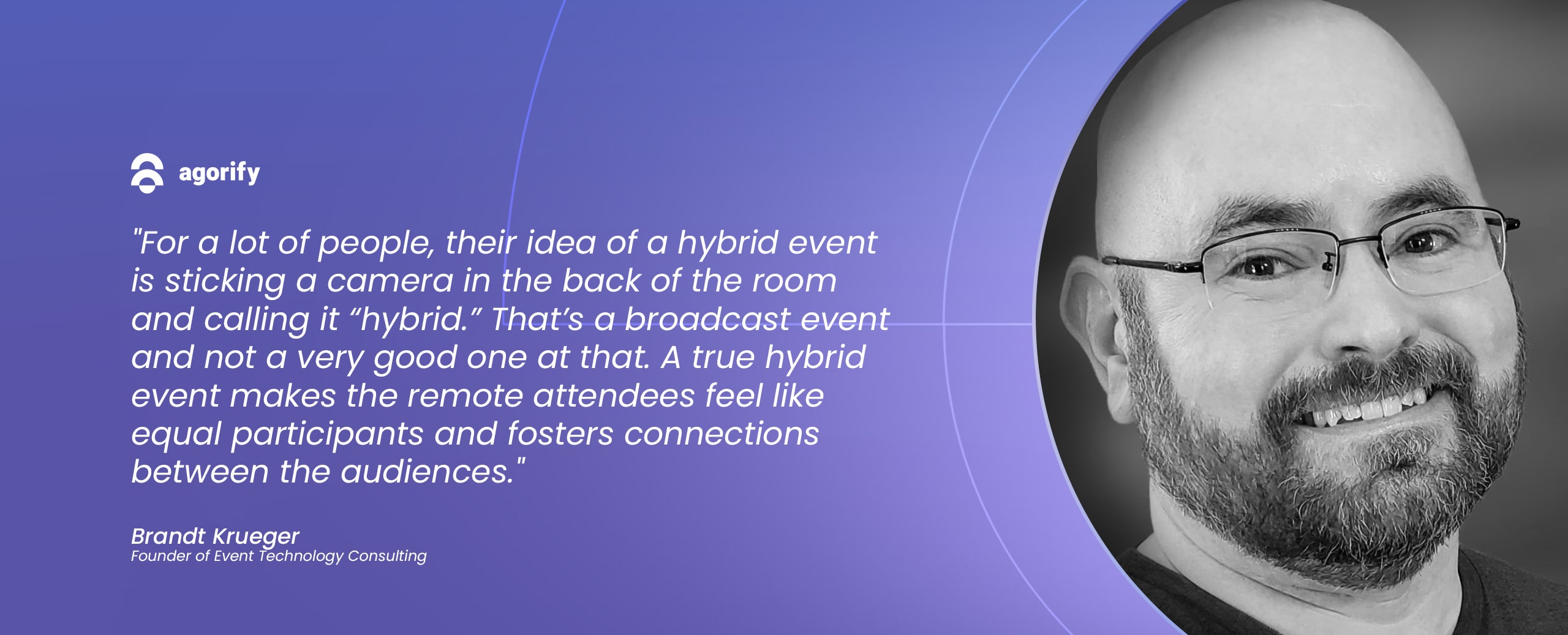 Our next guest in our series of interviews with some of the most eminent professionals in the event industry is Brandt Krueger, Founder of Event Technology Consulting, Instructor of the greatly renowned Virtual Event and Meeting Management certificate at the Event Leadership Institute in collaboration with MPI and Host and Producer of the Event Tech Podcast. Brandt was also recently named as one of the "Top 50 Virtual Meetings & Events Innovators" and "100 Most Influential People in the Event Industry" by Global Eventex Awards.
Without further ado, let's have a read about his expert outlook on the future of the event industry and some of its latest trends.
Please tell us more about your career in the event industry.
Brandt Krueger: It's a long story, but about 25 years ago I was working more on the technical theater side and wound up freelancing for a guy that did sound and lights for small corporate events. One of his clients was an up-and-coming event production company, and they hired me to build up and manage their props, decor, and technology inventory.
After 18 years of working with them in mainly technology roles including show calling, I went out on my own in 2014. I left the production company on good terms, but unfortunately, they had a different career track in mind than I was interested in so I started Event Technology Consulting 
Which professional achievement are you most proud of?
Brandt Krueger: While I'm enormously gratified by the wide variety and scale of the events I've worked on over the years, lately I've been taking great pride in the little things. I've done a lot of speaker prep and personal studio work for online meetings these last couple of years, and that's often more important than what event platform you choose.
Helping executives and subject matter experts look and sound their best has been really satisfying, and it's fun to show them the difference in their "before" and "after" looks. I received an all-caps email from a government official, "WHY DIDN'T ANYONE TELL ME I SOUNDED SO TERRIBLE FOR THE LAST YEAR AND A HALF!!" and I couldn't help but laugh.
Please tell us more about your organization. (What are its mission, vision, most popular event, biggest achievement, etc.)
Brandt Krueger: I realized there was a sizable market featuring events that had grown too large to be fully managed "inಋhouse" by marketing teams, admin assistants, or a single planner but weren't ready to hire a production company. They just needed a little help procuring and managing their AV and event technology, an area that many planners struggle with. It's my job to ease those burdens and be the person on the planning team responsible for the tech side so that they can focus on the other million and one things planners are responsible for!
In the last couple of years, it's been a privilege to work with much larger corporate and government organizations as they dealt with the transition to online events. And while I've been proud of the work I did with the smaller, in-person events, it's also kind of fun to now be working at the level of "I'd love to tell you who my clients are, but I'm under NDA."
How do you determine whether an event was successful or not?
Brandt Krueger: Anyone that knows me knows I'm all about getting to the root goals and objectives for an event, for all the stakeholders- internal, sponsors, exhibitors, and attendees. All of them have different goals, and you have to know what those are before you even begin to think about technology. You can't just "buy" audience engagement by throwing the latest technology at them, and you can't properly show ROI if you don't know what you're measuring from a goal standpoint.
Which are the most common mistakes when organizing events?
Brandt Krueger: Exactly what I said above: not knowing the goals and objectives of the event, and not knowing their stakeholders backward and forward. Most often an event fails when expectations aren't met, and someone isn't getting what they wanted to get out of the experience.
So many planners will decide on the venue or technology first, and then develop their agenda, when it really should be the other way around. Figure out exactly what you're trying to accomplish, then back your way into the technology.
What are your thoughts on event technology and its impact on the event industry?
Brandt Krueger: The downside of technology in our industry is that planners and stakeholders want everything to be perfect, and technology ಋ for all its benefits ಋ is far from perfect. As a result, we tend to be slower at adopting new technology, preferring to wait until it's "bulletproof".
On the upside, this usually means that we can see trends coming from a long way off and focus on technology that works, rather than whatever the hot new thing coming out of the Silicon Valley Hype Machine.
What is your opinion on hybrid events?
Brandt Krueger: I've been a huge proponent of hybrid events for the better part of a decade, not just now that in-person audiences are being brought back into the fold. The problem is that for a lot of people their idea of a hybrid event is sticking a camera in the back of the room and calling it "hybrid." That's a broadcast event and not a very good one at that. A true hybrid event makes the remote attendees feel like equal participants and fosters connections between the audiences.
But here's the thing: true hybrid events are hard. You have to fully plan the experiences for both in-person and remote audiences, fulfilling the goals and objectives equally for them. When you do it successfully, though, you get all of the benefits that in-person events offer, and all of the benefits that online events offer, which is an incredibly powerful (and valuable) combination.
About us:
Agorify is an advanced End-to-End True Hybrid Event management platform specializing in midsize to large complex events with multiple stages, engagement features, long event timelines, continued on-demand periods, a large volume of onsite or online attendees and exhibitors, monetization opportunities, and much more. To learn more about the features and benefits of Agorify, Book a demo.