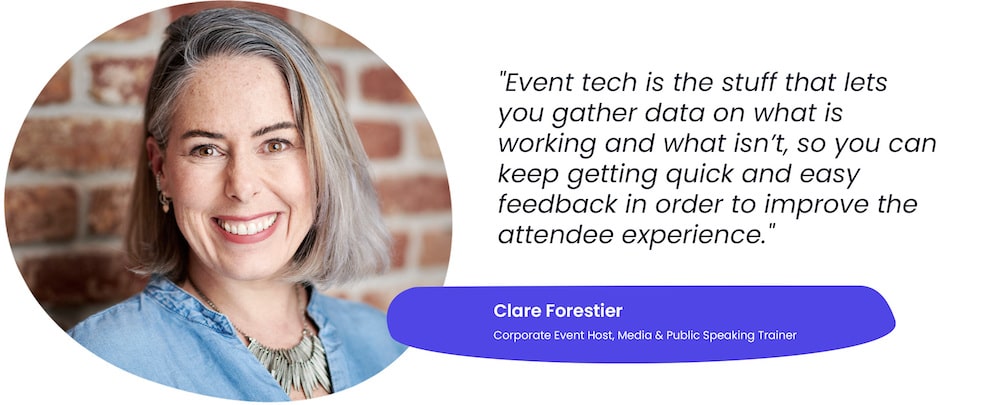 Another fantastic guest in our series of interviews with prominent names in the event industry. This time we have Clare Forestier, a business event host and media and public speaking trainer. In the interview, Claire talks about her professional journey and her views on event technology.
Keep reading!
Please tell us more about your career in the event industry, such as your beginnings and your major achievements.
Clare Forestier: My role in events feels like a natural progression from my career as a broadcast journalist. I was looking for a new challenge, so I took a job with a company that helps organizations in a variety of industries that aim to tell their stories through events and via film. As a TV and radio presenter, I have always loved explaining things and wasn't shy of standing on a stage or in front of a camera telling stories to an audience, and I realized events were just another way organizations tell their stories to their clients. My 25-year career presenting stories on TV and radio has taught me the skills to entertain all types of audiences as an emcee, and I love how my job can really help improve the attendee experience.
Can you share some of the most memorable events that you have been a part of? What made them special or unique?
Clare Forestier: One of my most memorable events as an emcee was when I hosted three annual global flagship events in London for a multinational telecommunications company. It was a complex and large-scale event, with a tech, production, and broadcast crew of 40, using advanced technology, including an Extended Reality studio, which combines Augmented, Virtual and Mixed Reality elements to blur lines between physical and virtual events to create a fully immersive experience. Each global event lasted 1–3 days and was hosted for three different audiences; internal people, partners, and analysts. A total of 3,000 people attended the events, both in person and virtually around the world. We had 3 full days of rehearsals and pre-recordings for each event, and on the day, I led and emceed the entire event, seamlessly linking the 'live' sessions and interactive segments, along with pre-recorded interviews and speeches, to create a 'wow' experience!
Can you share an event-related failure or setback you experienced and how you bounced back from it? What lessons did you learn from that experience?
Clare Forestier: During the pandemic, I turned up to host an event with a producer who had implied he was very experienced in running virtual studio-based events. The event had been described to me as taking place in a studio where I would be live and guests and contributors would be virtual, like a radio or TV studio. But unlike a radio or TV studio, there was no talkback button, no opportunity for me to communicate with the gallery or producers while the program was live, and no screens or way for them to get information to me during it. So when moderating panels and interviewing guests, I was essentially blind and unable to see who was talking and where they were. It wasn't even like a radio when you have the advantage of seeing which mic is live, and as the producers had no way of talking into my earpiece, they couldn't tell me, so I had to guess a lot and inadvertently make mistakes. It was one of the most stressful and unpleasant experiences of my career.
The lesson it taught me was that there is a huge disparity in what's promised and expected at each event I work at. I now ask a lot of questions of would-be team members and clarify exactly what is in place before assuming people know what they're doing.
What are some best practices for creating engaging and informative content for presentations and sessions at B2B onsite events?
Clare Forestier: Think collaboration, and let your audience talk! When attendees actively engage with the event, they are more likely to retain information and have a memorable experience. Encouraging audience questions, discussions, and interactive activities can elevate the overall engagement level. Your audience brings a wealth of knowledge and experiences, so if you harness them, they will add value to your content. Organizers need to include workshops, open discussions in their agendas, use polling platforms, gather feedback before, during, and after the event, and make networking really effective by running structured networking sessions.
Contributors and speakers need to think of coming to an event without having enough content for every moment of their presentation, i.e., their goal should be to have a conversation with their audience, like being a comedian. Great stand-ups prepare a lot of their act, but much of our delight in them comes from their interaction with the audience. I think the performance at an event should feel more like a two-way conversation, so the audience buys into the content more because their voice is being heard as well, and they feel more included, which makes the content more relevant to them.
Can you discuss any emerging technologies or tools that you find particularly exciting or beneficial for enhancing event experiences?
Clare Forestier: There are lots of fun things floating around that sound super exciting, but do they add value beyond a bit of sparking and 'oohs' and 'aahs?', that's the question. I am starting to really think of event tech as being about the long game, i.e. integrating tech into our events should serve a purpose beyond just being the latest trend or a way to gussy up a blah meeting. I think about it like moving house and wanting a fancy new kitchen (as I would like!), but actually, it might be better to spend the cash, (as my husband would want!) on improving the insulation, fixing the roof, and rewiring to make electricity safer. So while they are getting more common, I think Q&A and polling platforms for all events and using chat in virtual/hybrid events have been a game changer in allowing us to hear from attendees in real time and for them to feel their voices are being heard. And really, for event planners, while data doesn't sound sexy - the sexiest piece of event tech is the stuff that lets you gather data on what is working and what isn't, so you can keep getting quick and easy feedback in order to improve the attendee experience.
How can event organizers leverage technology to streamline onsite event processes and enhance the attendee experience?
Clare Forestier: This is not my area of expertise, but I don't want a sea of irritated faces or worse yet, an event that has to start late because of the drama and queues at registration. And it's hard to hear the frustration of event organizers who haven't gotten the sign up they want for events, so I have two suggestions. First, make signing up easier! Are your forms short and clear? Do I really need to share my inside leg measurement to get free entry to your event?! Second, invest in event tech to get people quickly and easily admitted to your event!
The rapid development of AI tools has been one of the trendiest topics lately, how do you think AI will impact the event industry in particular?
Clare Forestier: It's an exciting time, and I'm learning a lot about AI. I use it in my business to help speed up things like searching for information, editing my work, getting speaker bios, marketing, etc. and I'm up for any AI that can help improve the event experience. AI chatbots that can help handle event registration, remind your attendees what's coming up, and gather specific intel to help us tailor things for our audience, are things that will always get my vote.
5 Quickfire Questions: Yes or No Answers.
Is the event industry doing enough to minimize its environmental impact and promote sustainability?
No
Is the event industry effectively adapting to the changing expectations and preferences of the younger generation?
No
Does the event industry place too much emphasis on extravagant productions and overlook the substance and content of events?
Yes
Do you believe there is an over-reliance on technology and automation in the event industry, leading to a diminished human touch?
Yes
Is there a tendency for the event industry to prioritize high-profile and celebrity-driven events over those with authentic and community-driven experiences?
Yes
About us:
Agorify is an all-in-one event management platform and app that allows event organizers to manage every aspect of their event, regardless of whether it is an onsite, online, or hybrid event.
Our solutions include but are not limited to registration and ticketing, badge creation, lead retrieval, self-check-in and badge printing, digital agenda, AI Event Chat assistance, native-live streaming, simulated streaming, virtual round tables, breakout rooms, and much more!
Start for FREE