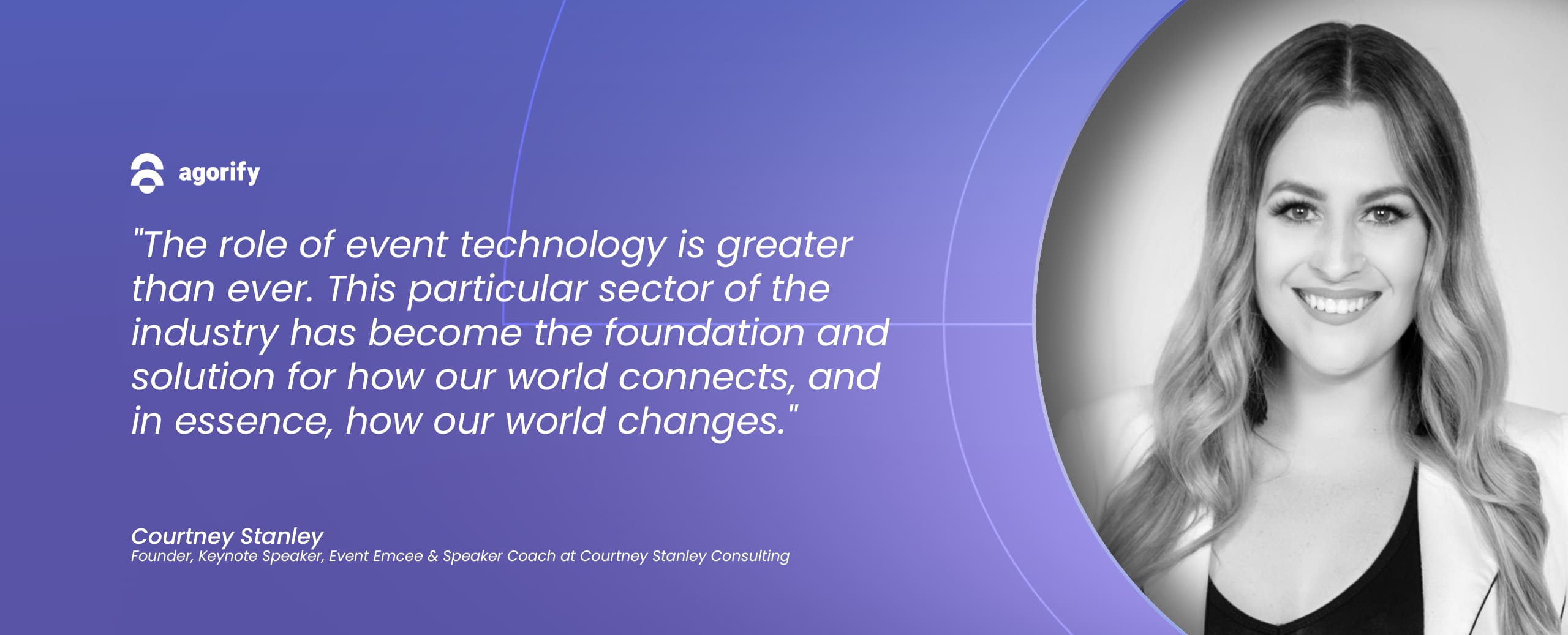 Our next thought leader interview is with the founder of Courtney Stanley Consulting, the youngest member to ever have been elected to Meeting Professionals International's (MPI) International Board of Directors, Keynote Speaker, Event Emcee, and acclaimed creator of the women-inspired podcast,  Dare to Interrupt – Courtney Stanley 
Being one of the most renowned names in the event industry, Courtney has shared her career path with us along with her views about the impact of technology and hybrid events on the industry. Have a read!
Please tell us more about your career in the event industry.
Courtney Stanley: After studying international tourism, business hospitality, and event management at university, I was captivated by the endless paths and possibilities that the event industry offered. From exploring entertainment events at the Country Music Association in Nashville and planning corporate gatherings for an events agency in Boston to leading the event and brand marketing strategy for a technology company in Toronto and exploring the world of nonprofit events for a political environmental organization in Michigan, the experience I have gained in the first 11 years of my career has been invaluable, and ultimately led to where I am today. Throughout my professional journey, I discovered my love for sharing knowledge and connecting people to new ideas and to one another. After years of side-hustling as a speaker and interviewer, I took a leap of courage and launched my entrepreneurial venture as a full-time keynote speaker, podcaster, emcee, and business coach. It was the limitless potential of the event industry that initially attracted me to my chosen career path, and it was the exponential opportunity to grow that inspired me to build my own empire and make an even greater impact on our community.
Which professional achievement are you most proud of?
Courtney Stanley: I'm most proud of my decision to not only make the jump as an entrepreneur, but to fight with grit, courage, and determination to continue building my business when the pandemic struck our industry just three months later.
Please tell us more about your organization. (What are its mission, vision, most popular event, biggest achievement, etc.)
Courtney Stanley: At the core of my business is a sincere dedication to inspiring change through meaningful conversation. Whether I'm taking the stage as a keynote speaker, moderating an executive panel, or interviewing a phenomenal woman on my podcast Dare to Interrupt, my goal is always to create space for people to share their perspectives, insights, and stories. The topics that I speak on are very personal to me and are curated from life experiences, lessons learned, and the desire to make our world a better place.
How do you determine whether an event was successful or not?
Courtney Stanley: Above all, how do my attendees feel? If they leave my events feeling inspired, challenged, energized, reflective, and connected, then I know I've done my job.
Which are the most common mistakes when organizing events?
Courtney Stanley: One of the biggest mistakes event organizers make is forgetting who their stakeholders really are: their attendees. We often focus so much on checking tasks off our mega-lists that we lose sight of what our special guests ಋ our customers ಋ really want and need. When organizing any event, we need to outline our strategic objectives and place them at the center of our decision-making.
What are your thoughts on event technology and its impact on the event industry?
Courtney Stanley: The role of event technology is greater than ever. This particular sector of the industry has become the foundation and solution for how our world connects, and in essence, how our world changes.
What is your thoughts on hybrid events?
Courtney Stanley: Hybrid events are complex but can be really powerful and transformative when executed effectively. It"s important that we lean on experts and partners in our community to provide us with the insight and advice that we need to be successful.
About us:
Agorify is an advanced End-to-End True Hybrid Event management platform specializing in midsize to large complex events with multiple stages, engagement features, long event timelines, continued on-demand periods, a large volume of onsite or online attendees and exhibitors, monetization opportunities, and much more. To learn more about the features and benefits of Agorify, Book a demo.