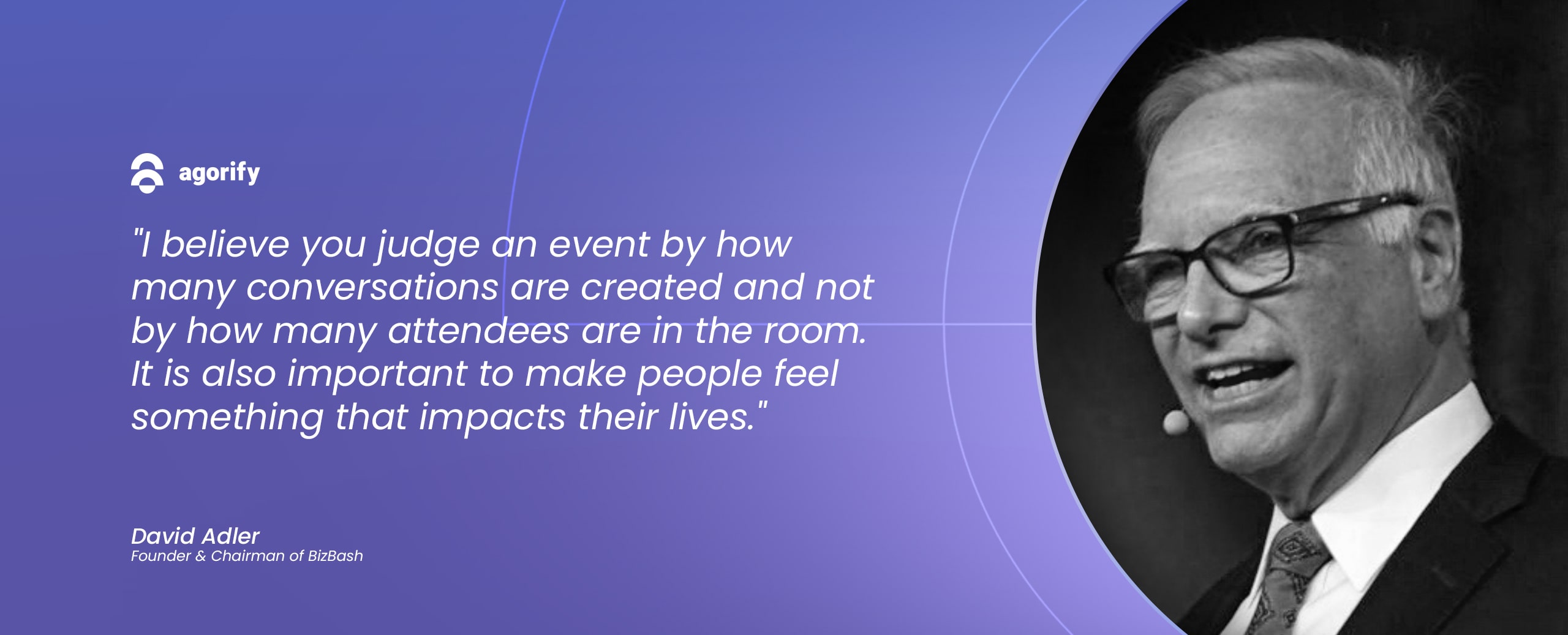 Recently we started a series of interviews with some of the most influential people in the event industry. The third interview we did was with David Adler, the Founder and Chairman of BizBash - "North America's No. 1 source of ideas, news and resources for event and meeting professionals".
Here is what David shared with us regarding his views about the event industry and the future that stands ahead of it.
Please tell us more about your career in the event industry.
David Adler: I have been using events as a marketing tool since I started my first company over 40 years ago at the age of 21. My company was a society magazine called www.WashingtonDossier.com.  We covered events and discovered that politicians' best skill is event organizing. After selling the company I was recruited as VP of Communications for Macmillan and PRIMEDIA where events were my number one tactic with a strategy to create intimacy among our stakeholders. My passion is to turn event organizers into what I call "collaboration artists", who use their skills for high-performance collaboration of all kinds.
Which professional achievement are you most proud of?
David Adler: I feel most proud of creating two major companies from scratch and successfully selling them.
Please tell us more about your organization. (What are its mission, vision, most popular event, biggest achievement, etc.)
David Adler: We created BizBash to highlight the importance of human gatherings as a place where innovation is birthed and new relationships are created which could lead to anything possible - from a revolution to a new friendship.
How do you determine whether an event was successful or not?
David Adler: I believe you judge an event by how many conversations are created and not by how many attendees are in the room. It is also important to make people feel something that impacts their lives. From a commerce perspective, it could be about ticket sales or purchasing results.
Which are the most common mistakes when organizing events?
David Adler: Organizing an event is a very complex and responsible task, however, I believe that there are two simple yet major common mistakes that event organizers usually do - over-programming their event and creating content that brings no value and excitement to the attendees.
What are your thoughts on event technology and its impact on the event industry?
David Adler: We are just in the beginning or more of the "brick phone" era and we need to add things to technology that builds trust, this also includes event technology which can truly bring value to the event industry.
What is your opinion on hybrid events?
David Adler: Hybrid events don't work unless they think of it as two different experiences. They should be viewed as a balance between onsite and online events and therefore, the content, although the same, should be delivered differently to both, onsite and online attendees. And if done right, they can indeed bring value to all parties involved.
About us:
Agorify is an advanced End-to-End True Hybrid Event management platform specializing in midsize to large complex events with multiple stages, engagement features, long event timelines, continued on-demand periods, a large volume of onsite or online attendees and exhibitors, monetization opportunities, and much more. To learn more about the features and benefits of Agorify, Book a demo.