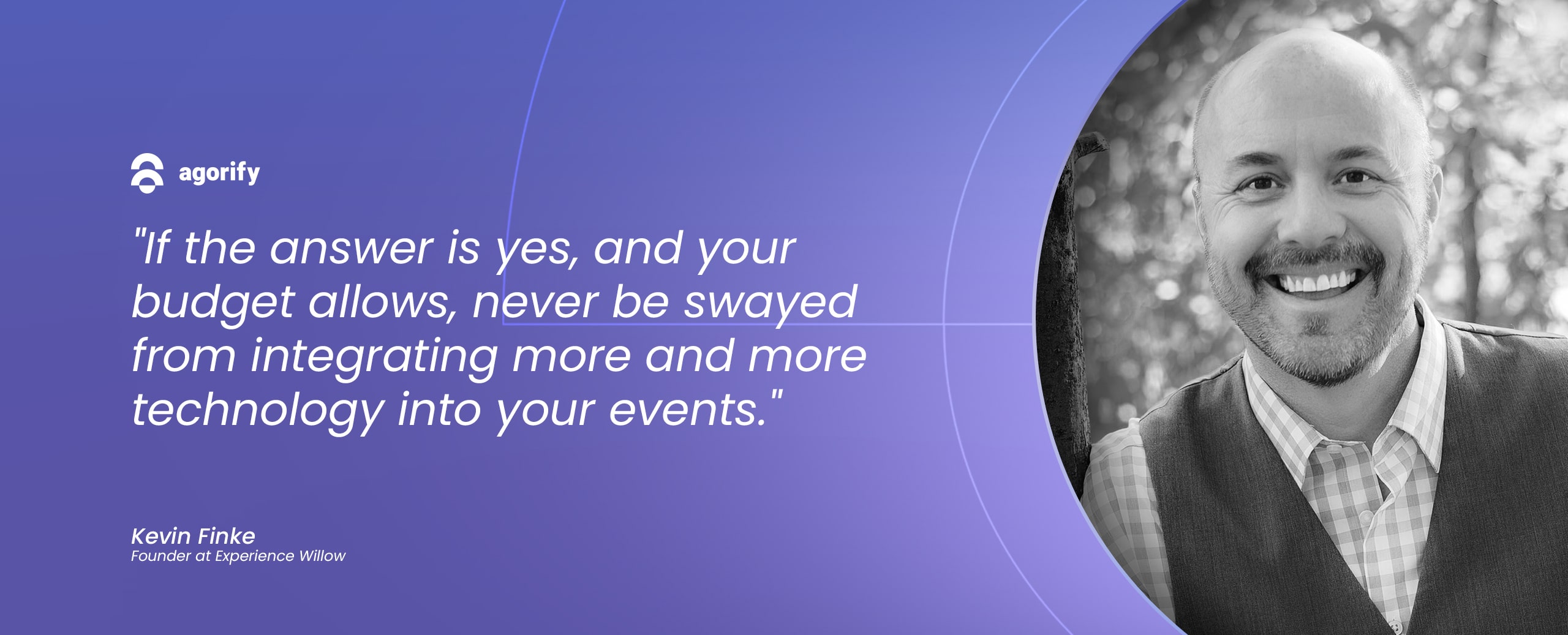 Another week, another amazingly insightful interview on our Agorify blog! This time we spoke with Kevin Finke, an award-winning experience designer and founder of Experience Willow - an agency that "designs meaningful experiences that bring people together and provoke them to take actions that make brands, organizations and lives better."
Being involved for over 30 years in the event industry, Kevin has worked with some of the most eminent brands in the world such as Walt Disney World, Coca Cola, Heineken, Kraft Foods, etc.
With that being said, let's jump right into our interview with him and see what he has shared with us regarding his professional journey and his expert viewpoints on topics such as event technology and the future of hybrid events!
Please tell us more about your career in the event industry.
Kevin Finke: My journey as an event professional has been more than a career. It's been the pursuit of a lifelong passion and yearning to create exceptional experiences for other people.
My first live events were in the late 80s when I was an active participant and leader in high school and community theatre. Looking back, I realize that producing and participating in live theatre was an unbelievable training ground. At the University of Illinois, I helped produce multiple homecoming events and a freshman onboarding experience called Be a Part from the Start. It was a weeklong, campus-wide, series of events that celebrated the diverse array of organizations and activities available for students.
Fast forward 30 years from my college graduation, and I've been so fortunate to work for and partner with some of the most iconic brands, companies, and influencers in the world, helping them bring their experiential ideas and campaigns to life.
I started my career at Walt Disney World in Orlando, where every day I engaged directly with guests at the Magic Kingdom and helped support live experiences (multiple attractions and parades) for thousands of park guests. Following Disney, I climbed the ladder for almost two decades in the creative agency world calling on clients like Coca-Cola, GM, Heineken, Kraft Foods, and Unilever to name a few. One of my primary responsibilities was leading and activating event and sponsorship deals with the world's largest sports and entertainment properties. One might think a career is anything but boring when you are tasked every day with partnering brands and professional talent at places like the Grammys and Billboard Awards, the Olympic Summer and Winter Games, the Super Bowl, and FIFA World Cup. Yet after two decades in the industry, I found myself waking up unhappy and unfulfilled.
So, in 2012, I left the more traditional marketing and agency worlds behind to become the owner and chief experience officer of Experience Willow, a design and production boutique in Atlanta. Today my team and I get to partner with executive and senior leaders from companies like FOX, HBO, Cox, Dunkin, Equifax, and NCR, and help them cultivate great cultures, workplaces, special events, and professional experiences for their employees. This May we will celebrate our 10th anniversary, and I've personally never felt more fulfilled at work than I do today. Every day is its own experience with its own rewards and challenges, but I love waking up, ready to learn and driven to create more exceptional experiences for other people.
Which professional achievement are you most proud of?
Kevin Finke: For me, achievements that come from courage, vulnerability and risk are the most rewarding. The one professional achievement I'm most proud of is taking the massive risk to leave my comfort zone—corporate marketing and the agency world—and open  Experience Willow,  my design and production boutique, and LGBT business enterprise. This year we celebrate ten years, and I'm so proud of all we've accomplished and the difference we're making inside organizations and on the lives and careers of thousands of workers across the world.
Please tell us more about your organization. (What are its mission, vision, most popular event, biggest achievement, etc.)
Kevin Finke: Our purpose at Experience Willow is to ignite a contagious curiosity and creativity in our clients that propel them forward and helps them make life better inside and outside their organizations. Today, humans spend more time at work than on any other activity in their lives. Yet worker engagement and satisfaction are at all-time lows, and worker burnout and churn are reaching all-time highs. Something's got to give! Companies and leaders owe their employees better events and experiences. The effects of having a positive work experience are not only felt inside companies. They ripple externally with other groups like customers, families, and communities too.
Our most popular event was with HBO Cinemax when (in one month's time) we helped them produce a week-long, immersive experience for 350 employees and customers. The One Throne One Choice event, featuring Khal Drogo himself, Jason Momoa, transported guests literally inside the Game of Thrones series. They became guests and visitors of a fiery medieval village, royal throne room and processional, and an icy banquet feast.
Our biggest achievement was leading a 6-month campaign and series of events that helped to transition 3,000 employees from disparate suburban offices to a central state-of-the-art technology campus in midtown Atlanta. The NCR On the Move to Midtown experience included a mobile-enabled scavenger hunt that introduced employees to their new commutes, campus neighborhood, and other employees and teams they had never seen in person before. It also involved a Day One campus orientation and tour that ran for three months from start to finish.
Both campaigns won multiple awards in the event industry including the BizBash Experience of the Year and Team Building Event of the Decade. These accolades provided us with the foundation and credibility to attract more business and to be named a Minority-Owned Company of the Year at the 2021 American Business Awards.
How do you determine whether an event was successful or not?
Kevin Finke: At Experience Willow, we practice human-centered design. That means we design and produce with human impact and outcomes in mind. From our perspective, successful events and experiences cultivate successful human outcomes.
At the beginning of every production, we partner with our clients to understand the physical and emotional outcomes they desire from the humans that will attend their event or participate in their experience. We agree upfront on what they need people to learn or do, and how they want people to feel before, during and after their event or experience. We then design with those outcomes in mind, and we put tools in place to track and report on them.
Which are the most common mistakes when organizing events?
Kevin Finke: Not agreeing upfront with the client or event owner on the purpose of the event and the desired outcomes. I said it before, "successful events deliver successful outcomes". You need to understand those going into your design and production process.
Not taking the time to understand the humans you're designing for. The more "winks" you can give a participant or attendee during an event, the better. People want to know they matter. They want to be seen and heard. When you design an event with the attendee or participant in mind, you're delivering on their very basic human needs. You are literally "winking" at them tactic by tactic and communicating to them: "I see you. I get you. You matter."
Not taking into account all the other impacts your event or experience is making on other people and the planet. Events don't only impact attendees. They impact:
The people behind the scenes of the production. "Event Planner" according to a recent online study was the 5th most stressful job in the world. The experience you create for others in the event industry, as they work and partner with you, matters. Think actively about their well-being and what they need or want out of this work experience.
The local neighborhood and community where the event is taking place. At every event, you should be asking yourself how you can source talent, goods, and services locally. You should think about how to mitigate any negative impacts you might have on the everyday life of people who live or work near where your event is being produced.
The environment and planet. Live events create waste. Lots of waste. You should care about your event footprint and work hard to lessen its impact on the environment. Sustainability has never mattered more than it does today.
What are your thoughts on event technology and its impact on the event industry?
Kevin Finke: Event Technology? Bring it on!
Technology helps us power better human experiences and outcomes. The more we can leverage technology to improve the impact and outcomes of our events, the better. You should always be asking: "What purpose does this technology serve? Could technology make our event or experience better for our participants? Our production team and partners? Our environment and planet?"
If the answer is yes, and your budget allows, never be swayed from integrating more and more technology into your events.
What is your thoughts on hybrid events?
Kevin Finke: Hybrid events are here to stay. Humans now live, work, and play in a "phygital" world. Why shouldn't we be producing events that are phygital too?
That said, I believe there's something special about live, in-person events and what they can deliver that doesn't translate through a screen. Some might call it "magical". At Experience Willow, we might even call it "primitive".
For tens of thousands of years, humans have gathered together. Not on screens. Rather in person and likely in circles. Seated on the ground or at tables or around campfires. It's in these more intimate moments that we experience and "feel" each other. We exchange stories and energies; we share our ideas and feelings; we resolve our conflicts and plot new shared futures together. I am not shy about having a bias for live events. Remember my passion for "live" started in my teens when I discovered theatre.
Recently, I watched a Late Show interview with Sutton Foster, who is currently starring on Broadway in The Music Man. She said, "There is nothing like performing live and sharing a live experience with others." I couldn't agree more.
I know Sutton's speaking specifically about what she does eight times a week at the Winter Garden Theatre in New York City, but I'd challenge all event professionals to think about themselves as performers too. Our gifts, talents, and stories are on stage every time we produce an event, and we too feel the same "primitive" thrill down deep, when we find ourselves performing face-to-face with our clients and guests and they reflect joy and satisfaction back to us, and to each other, with their smiles, actions, and "silent applause".
I simply can't imagine a life or a career or a world without live events and experiences. It simply wouldn't be human.
About us:
Agorify is an advanced End-to-End True Hybrid Event management platform specializing in midsize to large complex events with multiple stages, engagement features, long event timelines, continued on-demand periods, a large volume of onsite or online attendees and exhibitors, monetization opportunities, and much more. To learn more about the features and benefits of Agorify, Book a demo.