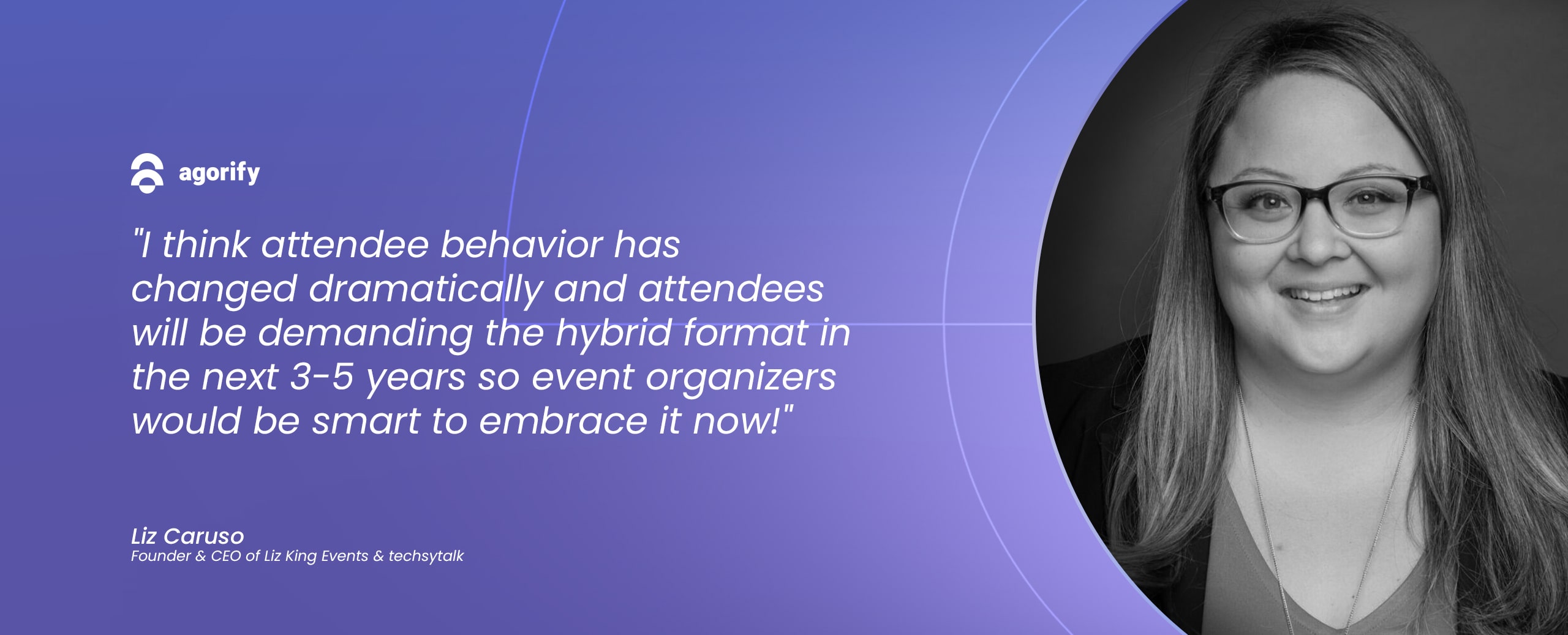 Aiming to inspire people to see the value of the events and all the benefits that come with them, we've conducted a number of interviews with some of the most successful names in the event industry on a global level.
Our second interview in this series of interviews is with the founder and CEO of the event organizing agency Liz KIng Events and the annual conference for virtual events - techsytalk - Liz Caruso.
Keep reading to find out more about Liz' work and the insights she shared with us in the interview.
Please tell us more about your career in the event industry.
Liz Caruso: I started in the events industry nearly 15 years ago by accident (like many) - working a job in the events department, but never realizing you could actually make a career planning events. I quickly transitioned into more of an event planning role and then started my business organically via my Twitter account @lizkingevents. I love the industry and the flexibility that running my own business gives me to dial into my interests.
Which professional achievement are you most proud of?
Liz Caruso: Hosting my own conference, techsytalk GLOBAL for the past 11 years - this has been a great creative outlet, an opportunity to connect with colleagues and a brand-builder that I never imagined when we first started! It's one thing to plan event logistics for clients, but to own the entire event - speaker selection, sponsorship sales and execution, program elements, event marketing etc. - is a unique and special opportunity.
Please tell us more about your organization. (What are its mission, vision, most popular event, biggest achievement, etc.)
Liz Caruso: At Liz King Events, we are passionate about innovation and strategy - we work with a variety of brands to really help them leverage events to achieve goals and I have a special interest in audience experience. I really love to take a deeper look at what attendees are hoping to get from attending and craft experiences that will attract and keep attendee attention.
How do you determine whether an event was successful or not?
Liz Caruso: I really keep the focus on the attendees. Many times, I ask attendees a single question at the end of the event "Would you recommend this event to a friend?" If so - we know they're happy. And happy attendees mean happy sponsors, met goals and pipeline for the future so I think it's the single most important factor to consider.
Which are the most common mistakes when organizing events?
Liz Caruso: I think the biggest mistake is being too worried about what you're trying to achieve. While important, with the focus on the brand/goals only, you will actually miss out on a lot of the value and opportunity.
What are your thoughts on event technology and its impact on the event industry?
Liz Caruso: Event technology is constantly changing - especially in the last few years - but there is no doubt that it has a huge impact on our industry. I think we'll see a ton of consolidation/streamlining in the upcoming years along with a huge influx of innovation which will really open the doors for us to try new things with our clients and be more successful.
What is your opinion on hybrid events?
Liz Caruso: Hybrid events have always been a great opportunity for most brands - we've been doing them for 10+ years and I'm so glad more people in the industry are embracing them. I think attendee behavior has changed dramatically and attendees will be demanding the hybrid format in the next 3-5 years so event organizers would be smart to embrace it now!
About us:
Agorify is an advanced End-to-End True Hybrid Event management platform specializing in midsize to large complex events with multiple stages, engagement features, long event timelines, continued on-demand periods, a large volume of onsite or online attendees and exhibitors, monetization opportunities, and much more. To learn more about the features and benefits of Agorify, Book a demo.