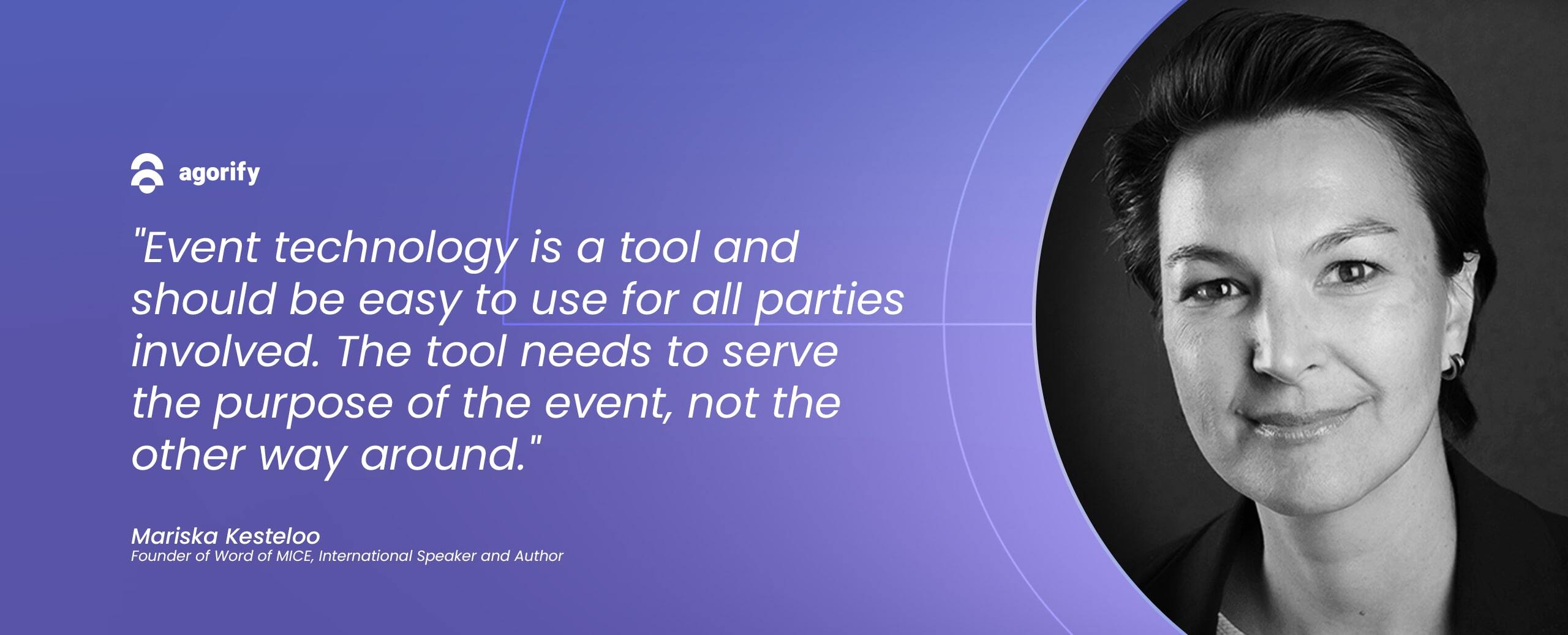 In this interview, we are having Mariska Kesteloo, founder of Word of MICE, international speaker, and author. She's been in the event industry for over 10 years and she recently was nominated as one of the 30 best speakers by the Nordic Business Forum.
Here is what Mariska told us regarding her career path and her standpoints about event technology and hybrid events.
Please tell us more about your career in the event industry.
Mariska Kesteloo: My career started in the tourism industry, this was a logical step after finishing my studies in tourism in the Netherlands. However, slowly I got involved in the event industry and decided to do a master's in event management in Ghent, Belgium. At the same time, I got involved in Meeting Professionals International, which gave a boost to my professional career. I have been in the industry for 10 years, and I still love it!
Which professional achievement are you most proud of?
Mariska Kesteloo: Difficult to say, but still I can choose what it would be; publishing a book in 2020 (this was a personal book) and coaching a mentee in 2020/2021 during the pandemic. I encouraged her to start her own company and finally met her life at IBTM at her own booth, which was brilliant. And last week I finished amongst the 30 best speakers for the Nordic Business Forum, another epic moment. And I became a digital nomad in March 2022, traveling through Europe in my home office on 4 wheels, my camper and cat.
Please tell us more about your organization. (What are its mission, vision, most popular event, biggest achievement, etc.)
Mariska Kesteloo: I have several companies. Let me start with Word of MICE. Together with my team, we create B2B influencer marketing campaigns for suppliers in the events industry, like destinations, regions, and tech platforms. To spread the message of our clients online and offline amongst their desired target audience using industry experts as professional storytellers And then I am working on an incubator/accelerator program to support entrepreneurs in the event industry. This is done in collaboration with Nienke van der Malen-van der Horst, my co-founder. As our industry is hard hit by the pandemic and the current situation, we want to support entrepreneurship and maintain the talent in our industry.
How do you determine whether an event was successful or not?
Mariska Kesteloo: I don't organize events myself anymore as we focus on B2B influencer marketing campaigns. But as a participant I determine it on several aspects; did I get out of this event what was I aiming for? This also depends on which are my goals from an event.
Which are the most common mistakes when organizing events?
Mariska Kesteloo: As a speaker, I became more critical to watch other speakers at events. A lot of organizers are convinced that adding a famous speaker is an added value to your event. It's possible, but the content of this famous speaker is usually more general and not too dedicated to this specific event. And please take care of a good speaker briefing, this is crucial for your event. Next, involve the speakers in every aspect of your event.
What are your thoughts on event technology and its impact on the event industry?
Mariska Kesteloo: Event technology is a tool and should be easy to use for all parties involved. The tool needs to serve the purpose of the event, not the other way around. I hope that we can embrace technology and that we are not afraid to try new technologies. We still have a long way forward in our industry, but we will get there!
What is your thoughts on hybrid events?
Mariska Kesteloo: It's too simple to say, hybrid events are the future. Because organizing a successful hybrid event is organizing two events at the same time for different audiences with different needs. Again, it all starts with the WHY; why do you want to organize this event? What would you like to get out of this event? And then you can decide which format is the best and if a hybrid event would be an option.
About us:
Agorify is an advanced End-to-End True Hybrid Event management platform specializing in midsize to large complex events with multiple stages, engagement features, long event timelines, continued on-demand periods, a large volume of onsite or online attendees and exhibitors, monetization opportunities, and much more. To learn more about the features and benefits of Agorify, Book a demo.