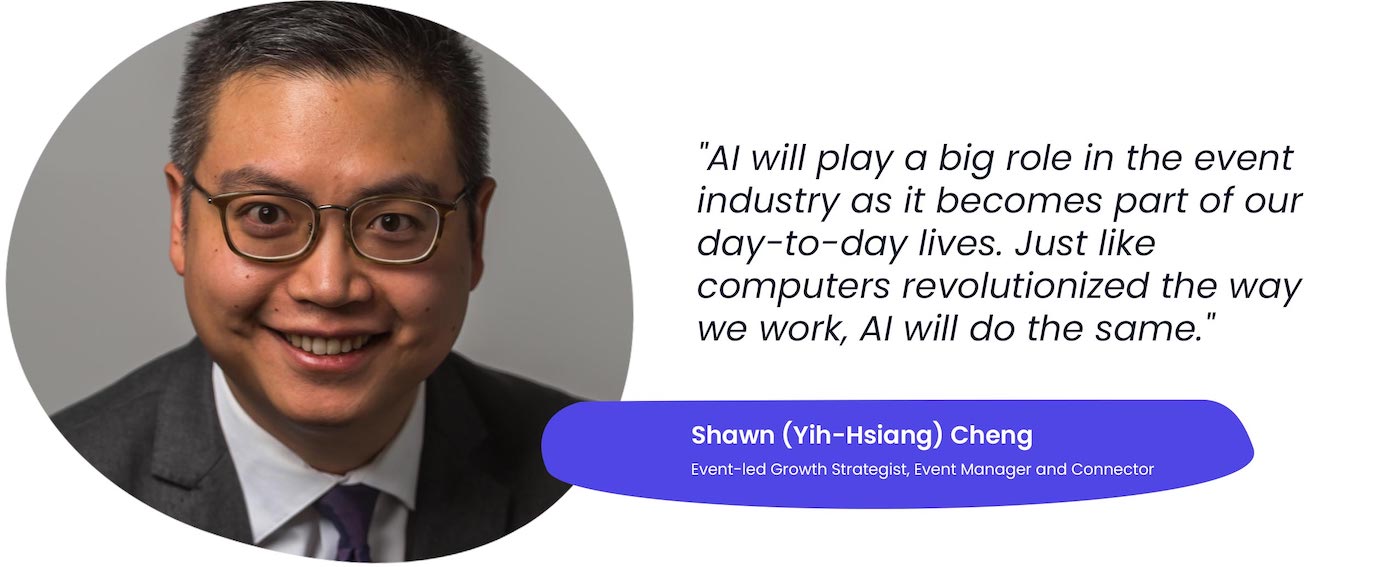 We are back with another set of interviews with brilliant event professionals who are shaping the event industry day by day. The first interview is with Shawn (Yih-Hsiang) Cheng - an award-winning Event Strategist, co-founder of #EventProfsBreakShit and Curious Bear Management, one of the most reputable event-organizing agencies in North America.
Without further ado, let's dive into Shawn's career path and his views about even technology.
Please tell us more about your career in the event industry, such as your beginnings and your major achievements.
Shawn (Yih-Hsiang) Cheng: With over 10 years of experience in the business event industry, I have successfully designed and executed various types of events, from cultural festivals and incentive programs to international congresses and conventions. I started my career in the hotel sector, then trained and grew through a tourism bureau, a small event management agency, and a nonprofit organization. I have also been with one of the largest PCO (Professional Congress Organizer), MCI Group, for over seven years.
Lately, I have been with a leading creative and strategy agency, DAHLIA+Agency for over two years. I am on my own now and work with various clients on their event design, management, and strategy. I am actively involved with industry associations and advocacy work. I served on the boards of PCMA, MPI chapters, the Global Events Collective, and was a member of the BC Meetings & Events Industry Working Group during the pandemic. I am the co-founder of #EventProfsBreakShit, an online community of event professionals who come together to test and experience event technology together.
Can you share some of the most memorable events that you have been a part of? What made them special or unique?
Shawn (Yih-Hsiang) Cheng: One of the proudest moments of my career was in 2018, when I helped a client transfer a scientific-focused trade show to a festival that was also open to the public. It generated huge media interest and was successful in both the financial and organizational prospectuses.
Can you share an event-related failure or setback you experienced and how you bounced back from it? What lessons did you learn from that experience?
Shawn (Yih-Hsiang) Cheng: I was once in charge of a tradeshow for an international medical congress. On the first day of the move-in, I realized there was a film shoot happening in the other rooms. It was a combination of misunderstandings and careless check-ins from different stakeholders. But the reality was, we weren't able to continue the move-in while the movie shot was happening. It was very stressful. The clients were not happy, and some of the exhibitors were in mild panic mode.
We grouped together, with the venue, and came up with a complex plan for the day for each party to fulfill their needs. In the end, it all went smoothly. The lesson here is that, as event professionals, we need to stay calm, especially when facing the unexpected. And, of course, be willing to work together with other stakeholders.
What are some best practices for creating engaging and informative content for presentations and sessions at B2B onsite events?
Shawn (Yih-Hsiang) Cheng: I found small group, audience-driven sessions to be very engaging, and popular in today's B2B event setting. People like to share their thoughts and listen to others who might have experienced the same challenges as them.
Can you discuss any emerging technologies or tools that you find particularly exciting or beneficial for enhancing event experiences?
Shawn (Yih-Hsiang) Cheng: Augmented Reality (AR) is going to be a great technology for us to take the event experience to the next level in many ways, hoping for a reasonable pricing on this type of activation very soon.
How can event organizers leverage technology to streamline onsite event processes and enhance the attendee experience?
Shawn (Yih-Hsiang) Cheng: Carefully think through the attendee journey from start to finish, and find ways to automate the process and collect data earlier that can be re-purposed later. There are many technology solutions that can help, but the most important thing is that event organizers need to go back to the attendee journey.
The rapid development of AI tools has been one of the trendiest topics lately. How do you think AI will impact the event industry in particular?
Shawn (Yih-Hsiang) Cheng: AI will play a big role in the event industry as it becomes part of our day-to-day lives. Just like computers revolutionized the way we work, AI will do the same.
5 Quickfire Questions: Yes or No Answers.
Is the event industry doing enough to minimize its environmental impact and promote sustainability?
No
Is the event industry effectively adapting to the changing expectations and preferences of the younger generation?
Yes
Does the event industry place too much emphasis on extravagant productions and overlook the substance and content of events?
No
Do you believe there is an over-reliance on technology and automation in the event industry, leading to a diminished human touch?
No
Is there a tendency for the event industry to prioritize high-profile and celebrity-driven events over those with authentic and community-driven experiences?
No
About us:
Agorify is an all-in-one event management platform and app that allows event organizers to manage every aspect of their event, regardless of whether it is an onsite, online, or hybrid event.
Our solutions include but are not limited to registration and ticketing, badge creation, lead retrieval, self-check-in and badge printing, digital agenda, AI Event Chat assistance, native-live streaming, simulated streaming, virtual round tables, breakout rooms, and much more!
Start for FREE