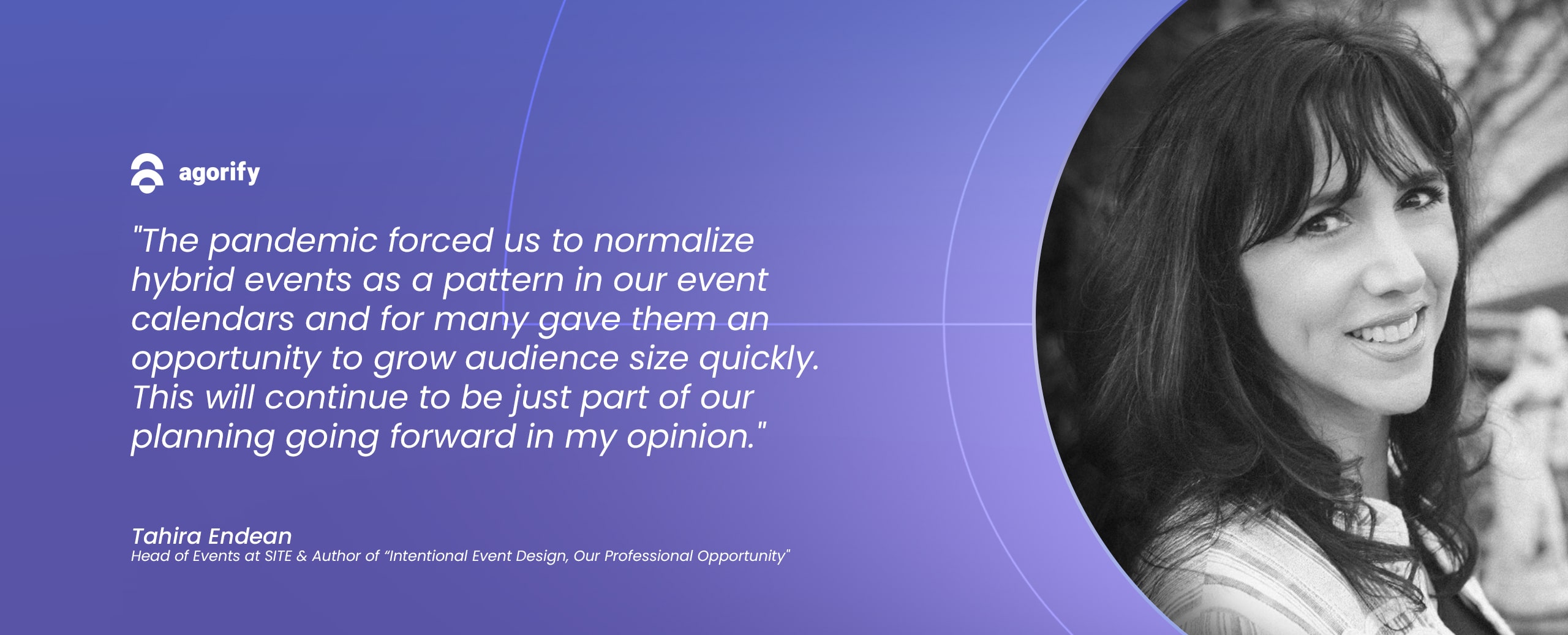 During the pandemic, the event industry has lost a great deal of talent. As the industry is getting back on track we want to spark an interest and enthusiasm for events and how important they are for business and society.
For that purpose we have conducted interviews with exceptional people, creators of amazing events that not only shine with their innovative experience but also shape industries and communities with their groundbreaking insights and ideas.
The first one from this series of interviews with prominent people in the event industry is Tahira Endean, Head of Events at SITE and author of the book "Intentional Event Design".
Please tell us more about your career in the event industry.
Tahira Endean: I joined the event industry in 1993 when registrations rolled in by fax and smartphones were 14 years from fruition. I feel so fortunate to have worked as a planner at a PCO, Creative Director for a DMC, in Event Tech, as a Producer for a large government technology summit, and currently with SITE which is a leading global industry association. I have also written "Intentional Event Design, Our Professional Opportunity" which covers how to create the most people-centric and purpose-driven events while taking care of your team and your participants. What we do provides a new challenge every day, results, and joy in creation that cannot be found in any other type of career. I feel so fortunate to have followed this path.
Which professional achievement are you most proud of?
Tahira Endean: All of them! I believe in the value of lifelong learning and have diplomas in Adult Education and Event Management, teach Sustainable Event Operations, hold an undergraduate degree in Hospitality Management, and am currently pursuing a Masters of Science in Creativity and Change Leadership. I also have my CMP - Certified Meeting Professional, CITP - Certified Incentive Travel Professional, DES - Digital Event Strategist, and CED - Certified Event Designer designations - for me all for all of these are about the process of learning and expanding the knowledge that is applicable to designing and delivering events that change or improve people's personal and professional lives. I have had the opportunity to work on hundreds of events around the world and everyone brings special moments and new friends. We are so fortunate to get to do what we do!
Please tell us more about your organization. (What are its mission, vision, most popular event, biggest achievement, etc.)
Tahira Endean: SITE global is a fantastic organization focused on those working in MICE, specifically the Incentive travel space. We believe that "building and bridging cultures through the transformative power of motivational travel experiences" is a critical factor in the successful retention, recruitment, recognition, and reward for organizations. Our members work on six continents and have a strong community of incentive travel buyers, agencies, DMCs, hotels, airlines, cruise lines, and partners on the ground that deliver astounding experiences. There are active chapter events around the world and we have our global conference taking place in Dublin open to anyone interested in learning from cross-functional experts and sharing ideas with industry peers. More information can be found at https://siteglobal.com
How do you determine whether an event was successful or not?
Tahira Endean: It depends on the objectives you set at the beginning as every event has a different measure of success, and every stakeholder may have their own version of success. Know what this is before you get too far into the planning.
Which are the most common mistakes when organizing events?
Tahira Endean: Not starting with your WHY. Understanding the objectives should drive the format, content, and delivery mechanisms. Understand the big picture, build the right team, find the most appropriate online and/or face-to-face destinations, and pay attention to the details. Understand the costs associated with planning and find ways to communicate effectively with your team and then everything you do together will be the right thing for your audience. Unexpected things will always happen so being as prepared and transparent as possible in your communications will help you get past the mistakes.
What are your thoughts on event technology and its impact on the event industry?
Tahira Endean: Technology is ubiquitous and impacts every part of our daily lives. We do everything from socializing to banking and can choose to connect from nearly anywhere on the globe. There is now a plethora of excellent platforms that allow us to 'meet' in many ways from consuming content, sharing chat or video dialogue with other participants, and viewing or even feeling as if we are walking through trade shows. We will continue into the metaverse at a rapid pace and this is all reliant on continued growth in technology and how events adapt.
What is your opinion on hybrid events?
Tahira Endean: We have excellent metrics dating back to 2010 on the power of both synchronous and asynchronous hybrid events for the power to connect audiences that are not able to all be together in the same room for any number of reasons. The pandemic forced us to normalize these as a pattern in our event calendars and for many gave them an opportunity to grow audience size quickly. This will continue to be just part of our planning going forward in my opinion.
About us:
Agorify is an advanced End-to-End True Hybrid Event management platform specializing in midsize to large complex events with multiple stages, engagement features, long event timelines, continued on-demand periods, a large volume of onsite or online attendees and exhibitors, monetization opportunities, etc. To learn more about the features and benefits of Agorify, Book a demo.