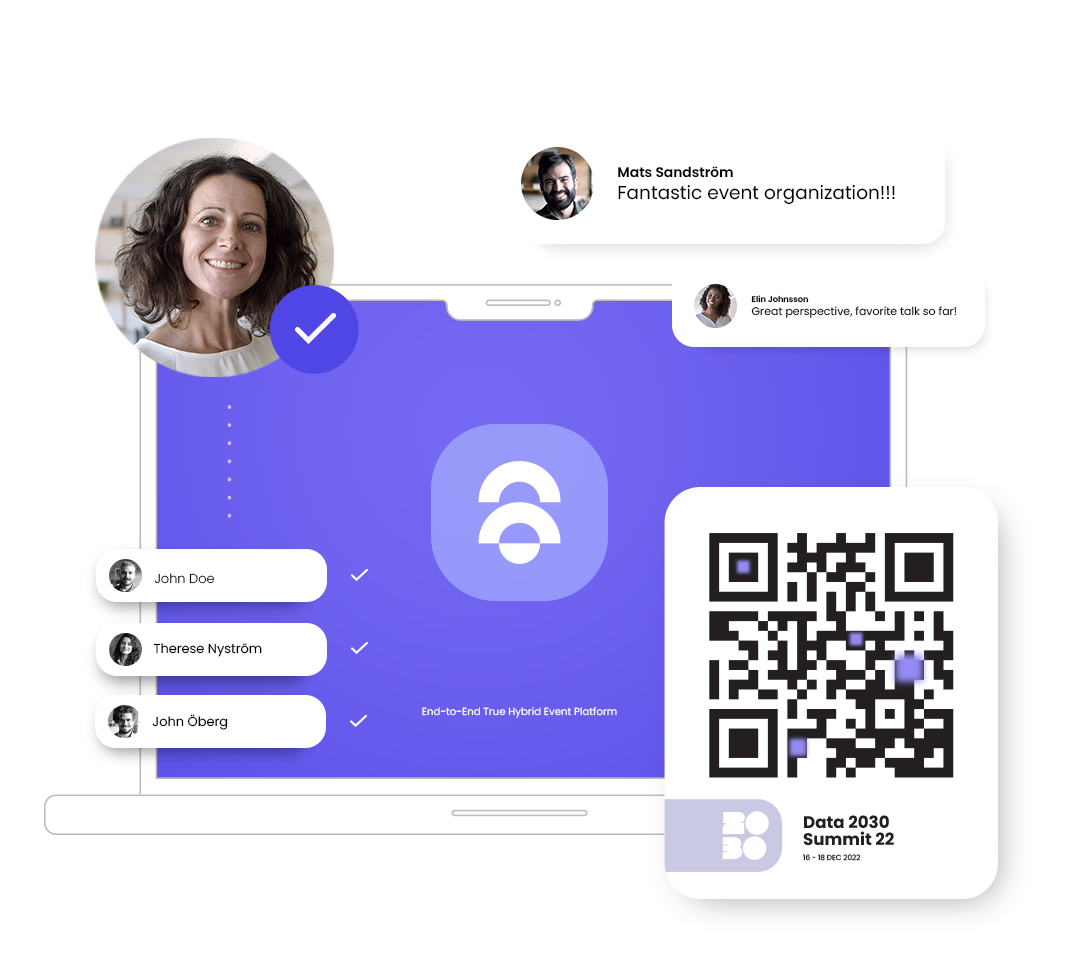 Cvent has been the popular choice in terms of event management technology for many event organizers all around the globe. However, although Cvent is great, each event is specific which is why for some events it might not be the right fit. Here you can find out the 8 best Cvent alternatives that you should definitely check out! Keep reading!
The number one best Cvent alternative is indeed Agorify. It is an End-to-End event management platform and mobile app that brings simplicity, flexibility, reliability, scalability, and affordability while specializing in three event formats: onsite, virtual and hybrid.
With Agorify, event organizers can execute complex and large scales events easily and effortlessly. This event management platform supports up to 100 001 parallel tracks with up to 100 001 attendees, has several fantastic engagement and networking opportunities, allows on-demand content access, virtual exhibitor booths with a data-driven dashboard, multiple monetization opportunities, and much more.
Besides the features mentioned above, Agorify has a number of cutting-edge tools that can truly leverage the event experience for all participants involved and improve the workflow efficiency for the event organizer - a fast and reliable event ticketing system, self check-in and badge printing, event app, lead generation tool, etc. What truly makes Agorify stands out is the fact that by selling event tickets, event organizers get access to 100+ features without an attendee cap limit.
In terms of pricing, Agorify's event app and platform are completely free for events with up to 200 attendees. In addition, it also has three other pricing packages: Organize (€49/month), Business (€299/month), and Enterprise (custom price on demand).
Mobile app: Yes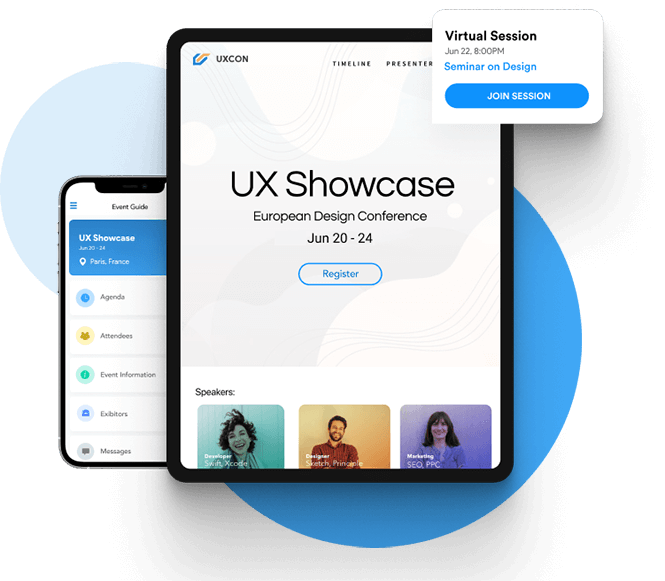 There are plenty of event management platforms that make great Cvent alternatives and one of them is also Eventleaf. Eventleaf is an event management platform that supports onsite, hybrid and virtual events.
Besides the web-based platform, Eventleaf also has a mobile app with a number of outstanding features such as: building your own event landing page, ticketing, badge creator, self check-in and badge printing, lead retrieval, multiple networking features, and more. The user interface is straightforward and modern, making it very easy to use.
In terms of pricing, Eventleaf has 4 packages: Starter (Free for events with up to 100 attendees/year), Basic ($1 per attendee), Professional ($2 per attendee), and Ultimate (custom price on demand).
Mobile app: Yes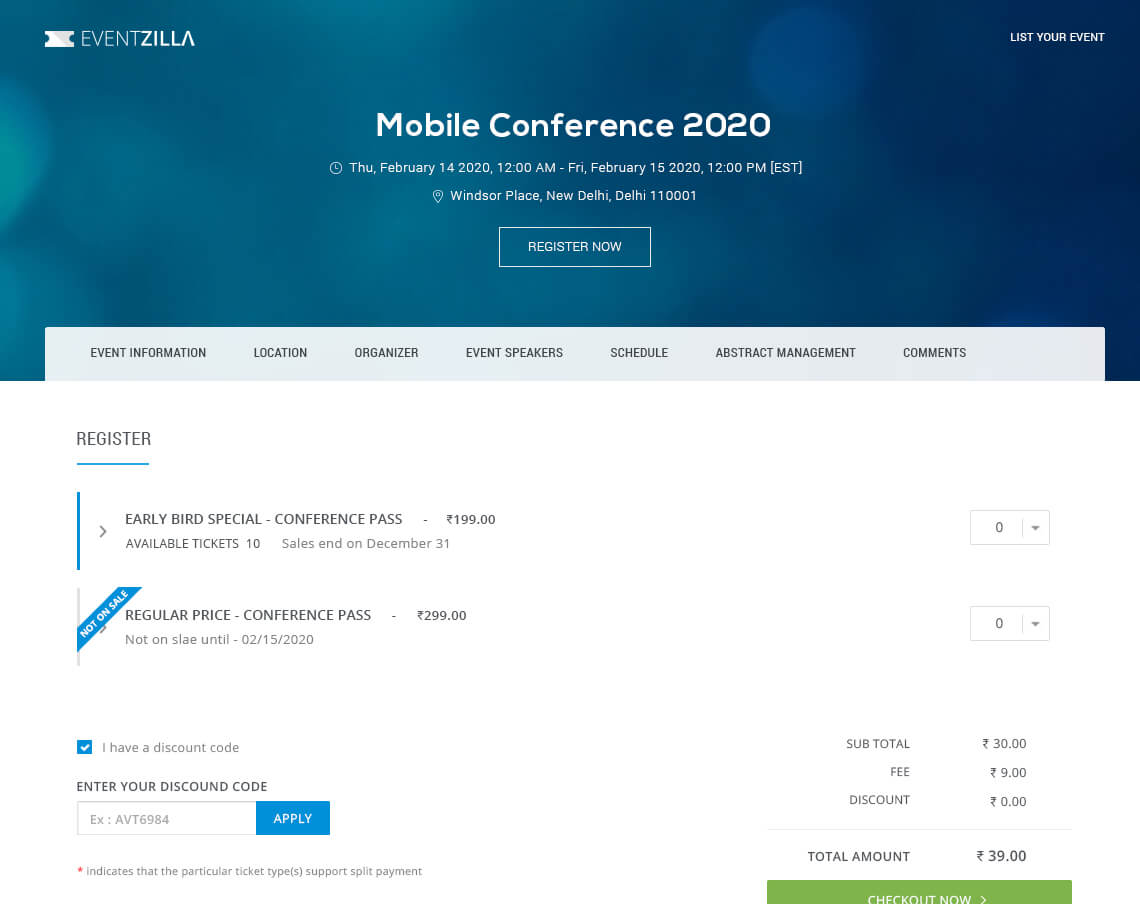 The next event management platform on our list of best Cvent alternatives is Eventzilla. This event management platform is great for hosting events regardless of whether they are onsite, hybrid or online. By using its tools, event organizers can easily create landing pages for their events, sell tickets, handle registrations, live streams, etc.
Eventzilla doesn't charge anything for small events such as meetups and simple gatherings. In case you are interested in organizing larger events, it offers three different pricing packages: Basic ($1.50/ registration), Pro (1.9% + $1.50/registration; Capped at $12.99) and Plus (2.9% + $1.50/registration; Capped at $19.99).
Mobile app: Yes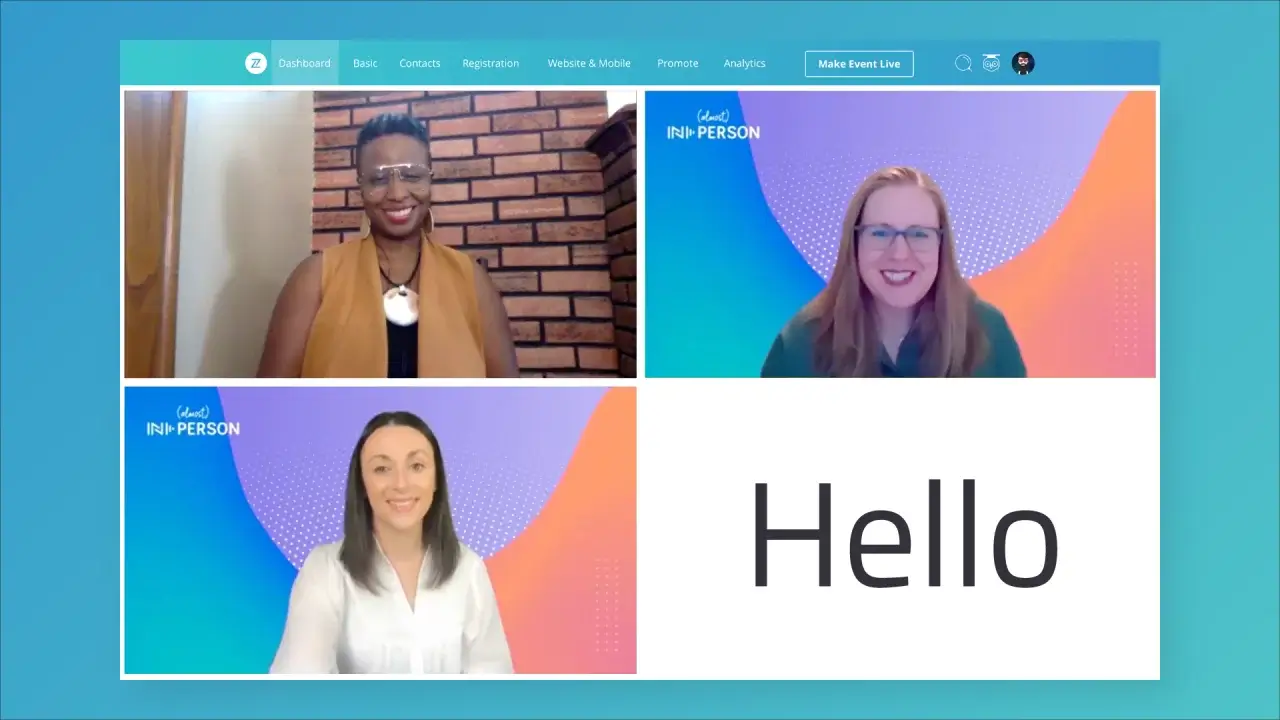 Bizzabo is another event management platform that makes a good Cvent alternative. Just like the other platforms, this one as well powers three event formats: onsite, online, and hybrid. With Bizzabo event organizers will be able not only to manage the event but also to market it and create engagement and networking among participants.
Its features include ticketing and registration, contact management, networking tools, reports, ticketing, and registration, etc. This event management platform is mostly used by corporations, agencies, nonprofits, higher education institutions, and associations.
Bizzabo provides custom pricing after a demo call.
Mobile App: Yes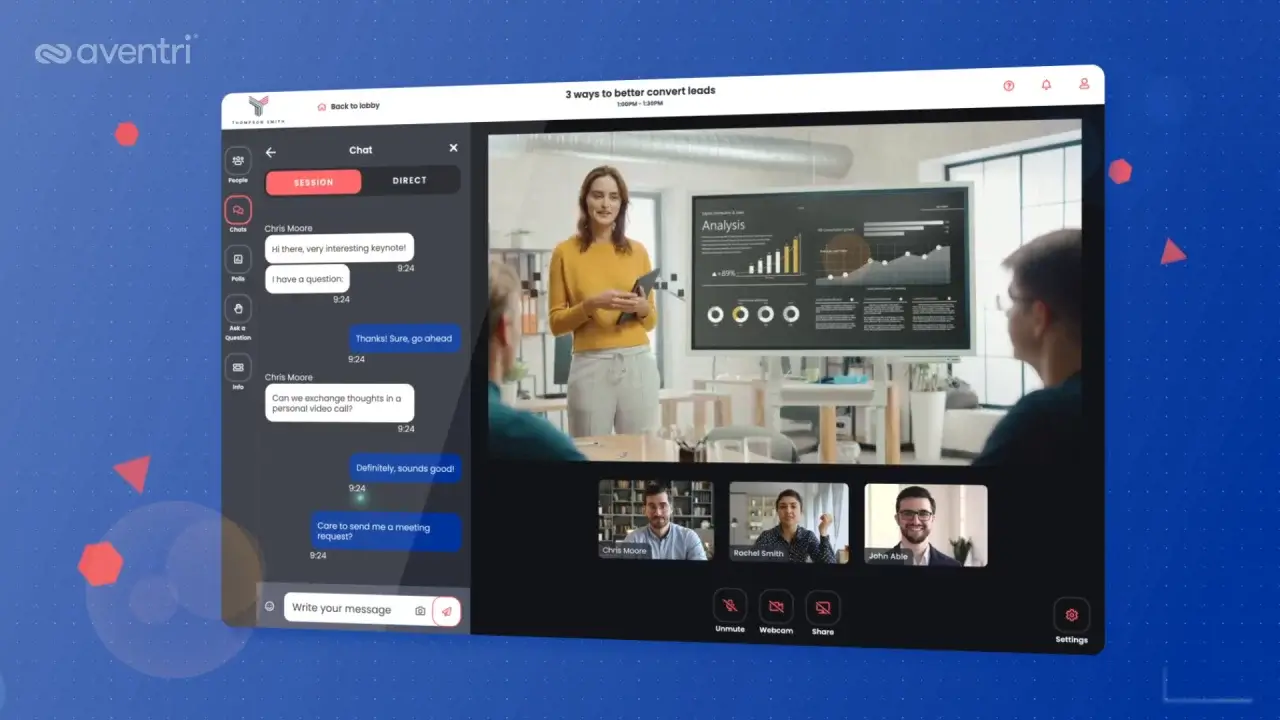 Aventri is a user-friendly event management platform that can help event organizers simplify their event management process especially when it comes to the planning process, event registration, email marketing campaigns, and engagement during onsite events.
It is a full-service provider which is why they don't offer integration to other platforms and can fully support events of all sizes and formats. Its feature palettes include engagement panels, Q&A, behavioral data, event management, registration, and much more.
Just like Bizzabo, Aventri also has a personalized pricing model which you can receive during a demo call.
Mobile App: Yes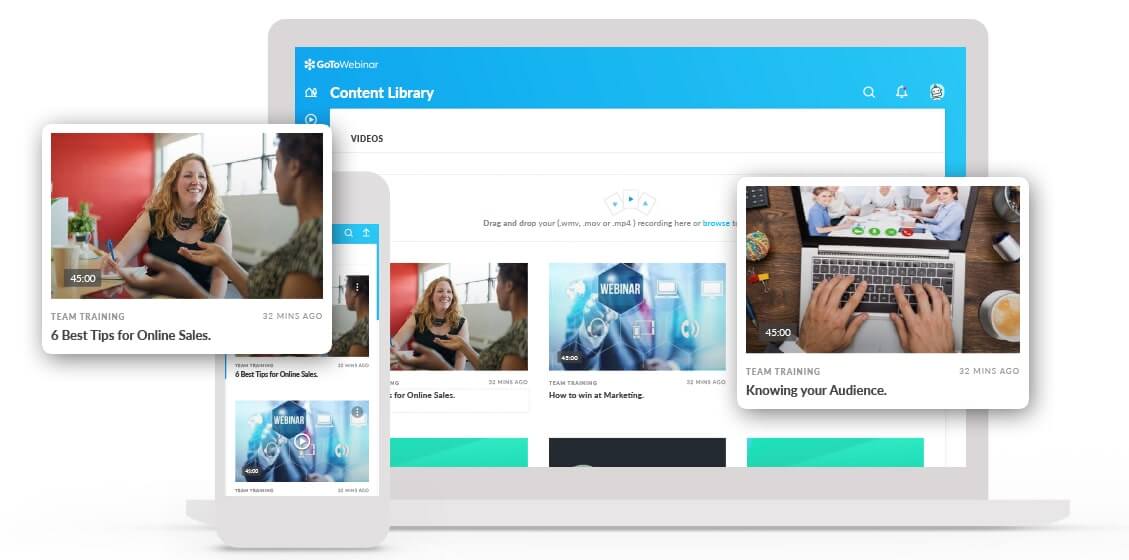 If you are looking for a Cvent alternative that specializes in webinars then you should check out GoToWebinar. It offers customizable registration pages, webinar templates, surveys, ability to customize the content, real-date insights and other tools that can increase engagement and generate leads.
The platform is very simple and the event organizer can easily create the webinar content within a few minutes. The attendee limit capacity per webinar is 3000.
In order to get a free trial or pricing specifically tailored for your webinar, you need to book a demo with some of GoToWebinar's representatives.
Mobile App: Yes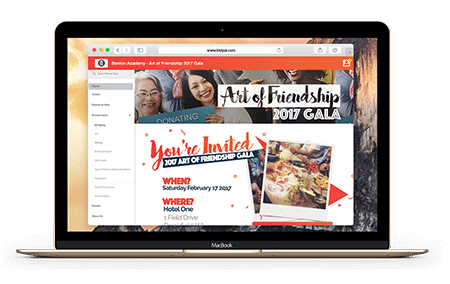 The next on the list of the best Cvent alternatives is OneCause. Unlike the previous event management platform, OneCause has a very specific niche - it is designed for event fundraising.
This event management platform works best for nonprofit organizations aiming to raise more funds. It is very easy to use, allowing event organizers to manage several virtual or live fund-raising events, easily get in touch with donors, stream the event, receive mobile donations, create peer-to-peer fundraising, mobile bidding and auctions, and other activities that will boost the event fundraising experience.
It has four pricing packages: Do-it-yourself, Virtual, Professional and Full service. To receive the exact cost, you need to request a consultation.
Mobile App: No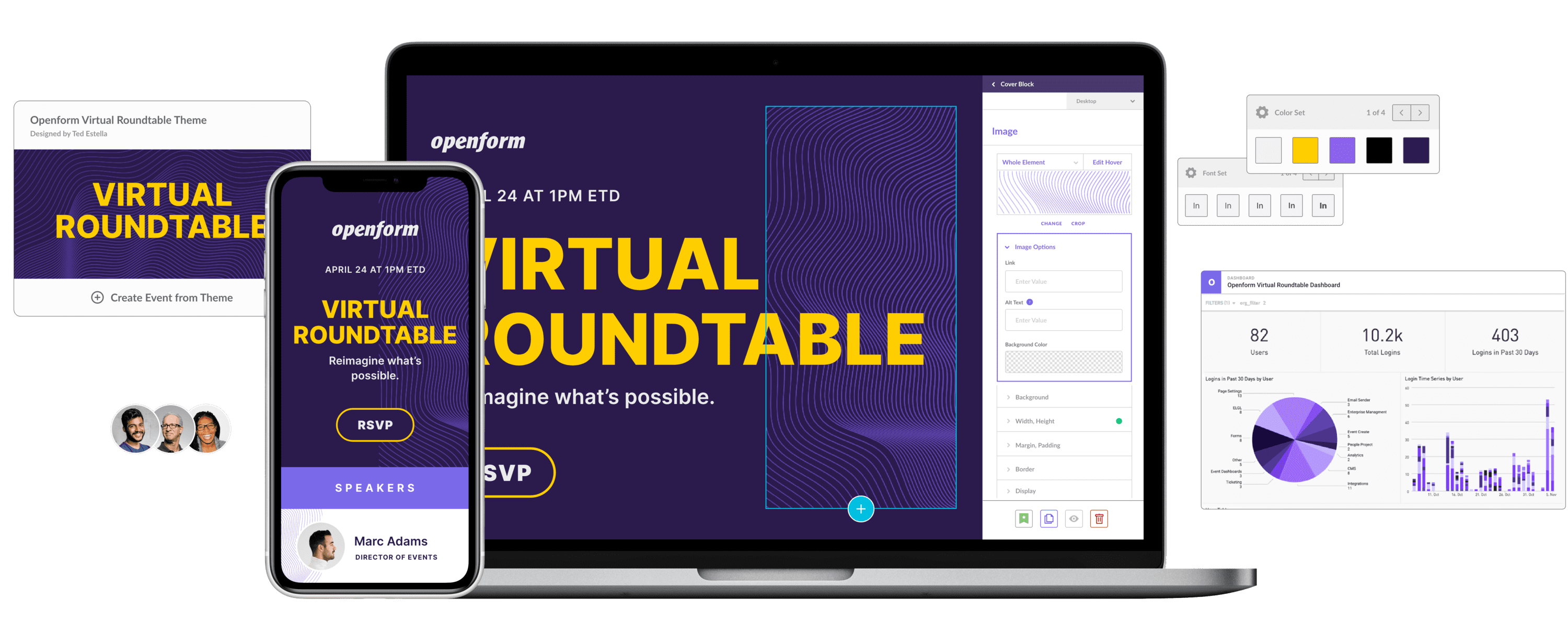 Last, but not least - Splash. This platform is a great alternative to Cvent especially if you are looking to improve the workflow efficiency of your marketing as Splash's main focus is on event marketing.
This platform has features such as check-in guests, run surveys, sweepstakes and contests, creation of event landing pages, automation of marketing operations, connected data, self check-in, etc
Although the main specialty of Splash is event marketing, this platform also supports onsite, virtual, and hybrid events. One thing to note is that despite that Splash can truly contribute to your event marketing efforts, it still lacks networking and exhibitor tools.
Besides having the freemium package that you can try out for personal or small business events, Splash also has three more pricing packages: Basic ($14,000/year), Pro ($23,000/year), and Enterprise (custom).
Mobile app: Yes

To Wrap Up
There is no doubt that Cvent is one of the pioneers of event technology, however, for whatever reason, it may not be the right event management platform for every event. This highly depends on your event's objectives, features, format, size and budget. Above we listed 8 amazing event management platforms that definitely can be considered the best Cvent alternatives.
Finally, if you are interested in learning how to optimize your event's reach, extend its lifecycle, and boost your ROI using the most advanced event management platform and event app Agorify, book a demo with one of our event experts.