Click on image to view it in full size
Numerous industries now benefit from digitalization in ways no one could have predicted before. Although at first there was some hesitation, the event industry didn't remain immune to digitalization either. Regardless of the format, whether onsite, virtual, or hybrid, nowadays almost all events have incorporated some kind of digital tool to amplify the event experience. A good example of such digital tools are event apps, but let's first define them.
What is an event app?
As the name itself suggests, an event app is a (usually) mobile application that consists of a palette of tools and features covering different aspects of the event. In most cases, such apps include a digital agenda, networking tools (chat and meeting schedulers), engagement tools (Q&A and polls), an attendee profile, a speaker list, an exhibitor e-booth, and other similar solutions tailored towards improving the entire event experience.
It's important to note that not every management platform offers mobile event apps for free, which is exactly why we decided to craft a blog post covering the top 8 best free event apps. Let's get right into it!
With its user-friendly interface and powerful package of versatile tools and features, the Agorify app is truly number one when it comes to the best free event apps. This event app allows event organizers to create a dedicated, branded community for their events, allowing all event participants to get access to the event content not only during the event but also before and after the event.
Its free features include but are not limited to an event check-in scanner for an easy registration process, a digital agenda with personalization capabilities, an interactive floor map for smooth venue navigation, networking and engagement tools such as Q&A sessions, discussion groups, and private messaging, a speaker list, exhibitor list and branding possibilities, digital exhibitor booths for file sharing and demo booking, attendee profiles for personal branding, attendee list for networking, badge creator, unlimited admin accounts, email customer support, and much more!
The Agorify event app is 100% free for those event organizers who are using its ticketing solution to sell tickets at super low commission fees. For those who are using another ticketing system or are organizing free events, Agorify can be used completely for free for up to 200 attendees.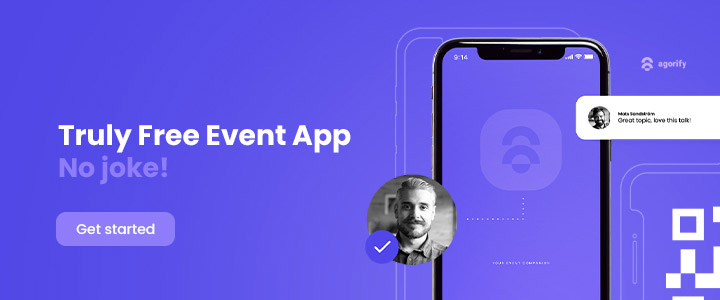 Which capabilities are included in the paid licenses of the Agorify event app?
The Agorify event app also offers tools like self-check-in and on-demand badge printing, lead retrieval for exhibitors, a silent room for demo showcasing, push notifications, a social wall, an AI event assistant, a lower commission fee for selling tickets, meeting scheduler, viewing live streamed session, deep analytics, integrations, priority support, and much more!
The platform is known for its versatility in setting up interactive events of all sizes and is definitely number one when it comes to cutting-edge features and tools.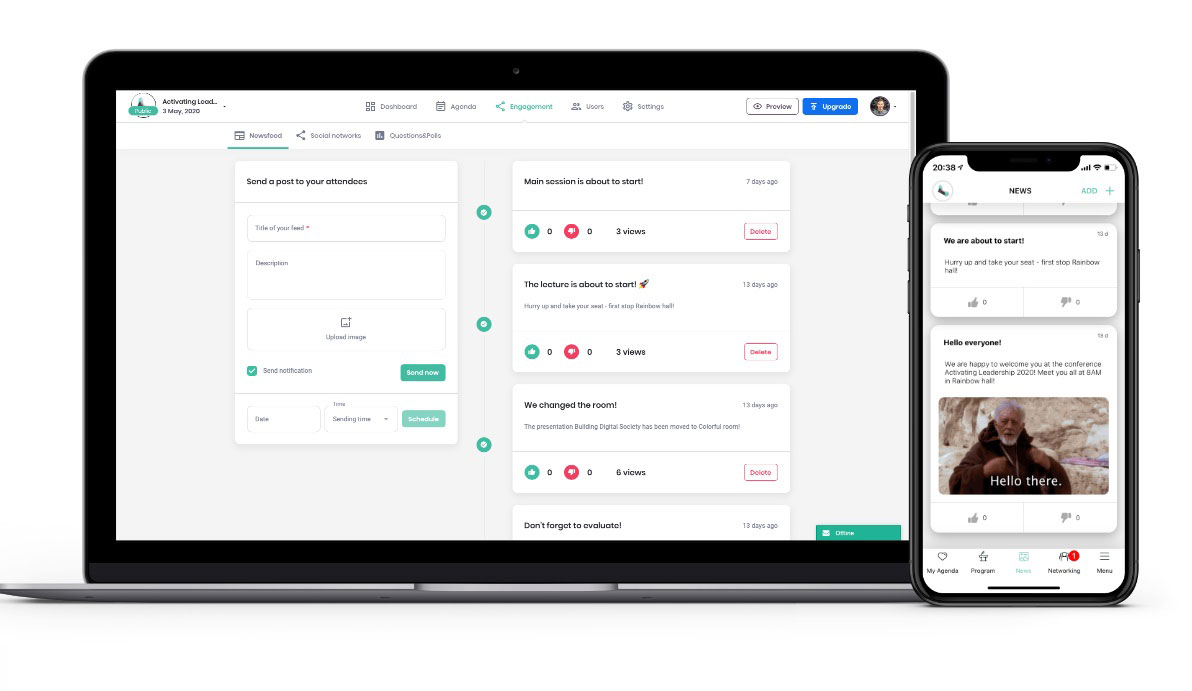 Eventee is a user-friendly event management platform that also has a free mobile event app in its offering in order to enhance the attendee experience. This free event app comes equipped with engagement capabilities such as live polling, live Q&As, a responsive homepage, and a web and mobile app specifically designed for attendees. By using the free version of this event app, you can easily build an event with up to 100 attendees per year, regardless of whether it is onsite, virtual, or hybrid. This version includes one company member.
Which capabilities are included in the paid licenses of the Eventee event app?
Eventee also has paid licenses, and each one of them comes packed with a number of other features depending on the pricing of the license. However, in a nutshell, the paid features that this event app offers are multiple events per year with increased attendee capacity and company members, ads-free access, file sharing, analytics, networking tools, partner and sponsor display, integrations, social wall, custom branding, priority support, and more!
The app aims to make event management effortless and offers features to boost audience engagement and participation.
Third on our list of the best free event apps is Swapcard. Swapcard is an all-in-one event management platform with its own mobile event app, which can be used for free.
The free version is packed with cutting-edge features aiming to enhance the overall event experience. It can be used for up to 250 attendees per year and distributed throughout an unlimited number of events, one organization, ticket registration, up to 10 exhibitors per year, exhibitor tools, web engagement features, basic support, reports, API calls, native integrations, and other amazing features.
Which capabilities are included in the paid licenses of the Swapcard event app?
Swapcard has three additional pricing models. Depending on which pricing model you choose, your event app could be accessible to an increased number of attendees and exhibitors distributed throughout an unlimited number of events per year. In addition, the paid versions of the Swapcard event app also offer event ticket sales starting at 2.5% plus per registration, customer success management, branding, and other features that can contribute to the overall execution of the event.
In summary, Swapcard is designed to amplify the engagement, facilitate event management, and establish meaningful connections at both virtual and in-person events.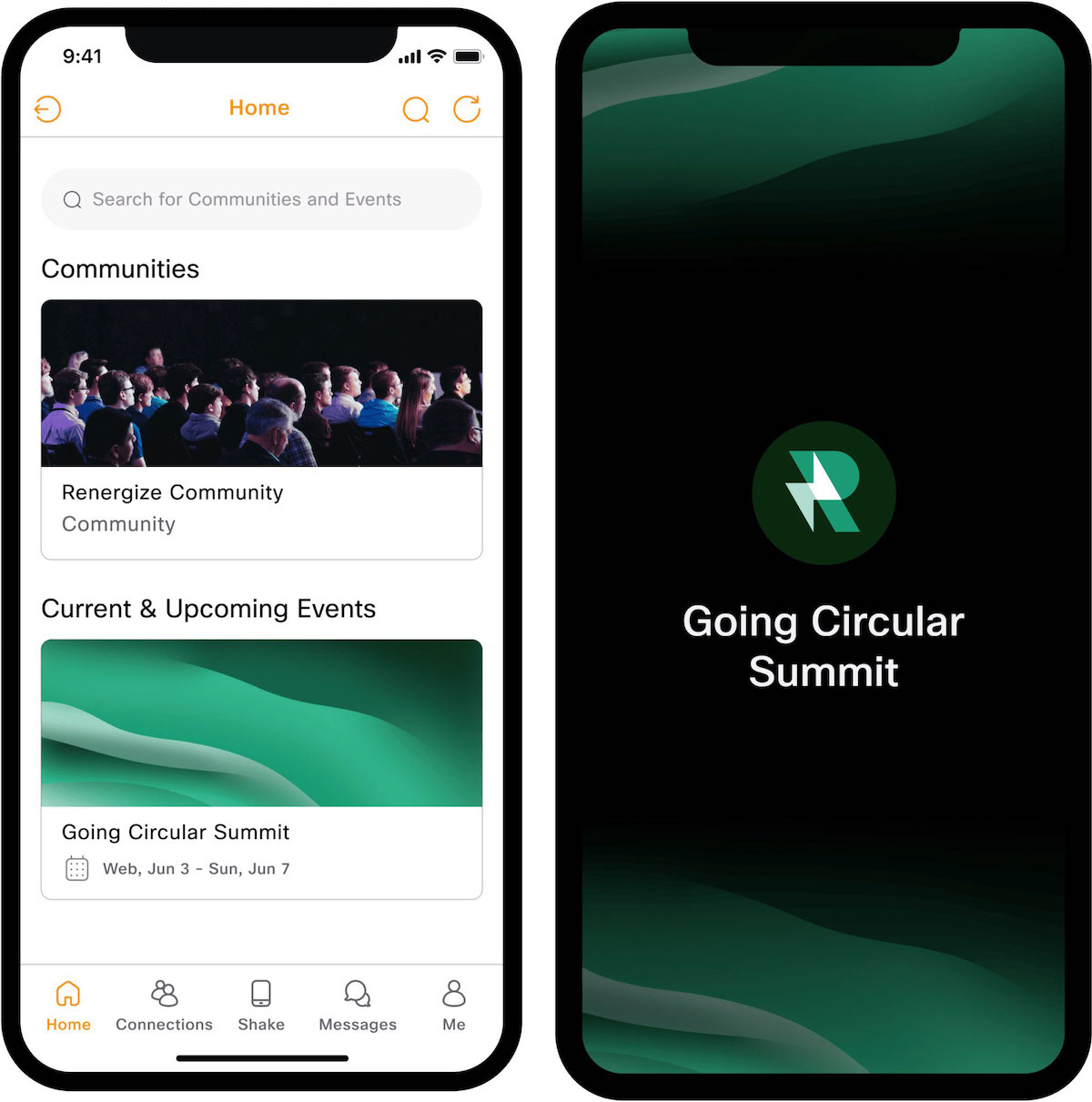 If you are hosting small events, then Webex Events (Formerly known as Socio) might be an option that you should consider. The free version of Webex Events allows you to organize one one-day-long event per year with up to 50 attendees and one company member. It is suitable for all three event formats: onsite, virtual, and hybrid, as it includes registration features, a check-in scanner, a badge printing tool, zero commission ticket selling for up to two ticket types, 3rd party native streaming, on-demand video content, sponsor booths, banner ads, a digital agenda, live display, customization, and other great features that can streamline the event execution process.
Which capabilities are included in the paid licenses of the Webex event app?
Webex has two paid versions, and depending on which one you choose, you can increase the number of events executed per year, welcome more attendees, access lead retrieval, get a streaming studio, sell unlimited types of tickets, etc.
To sum up, Webex Events is a user-friendly event app designed to provide comprehensive end-to-end management tools and enable you to create engaging and immersive event experiences.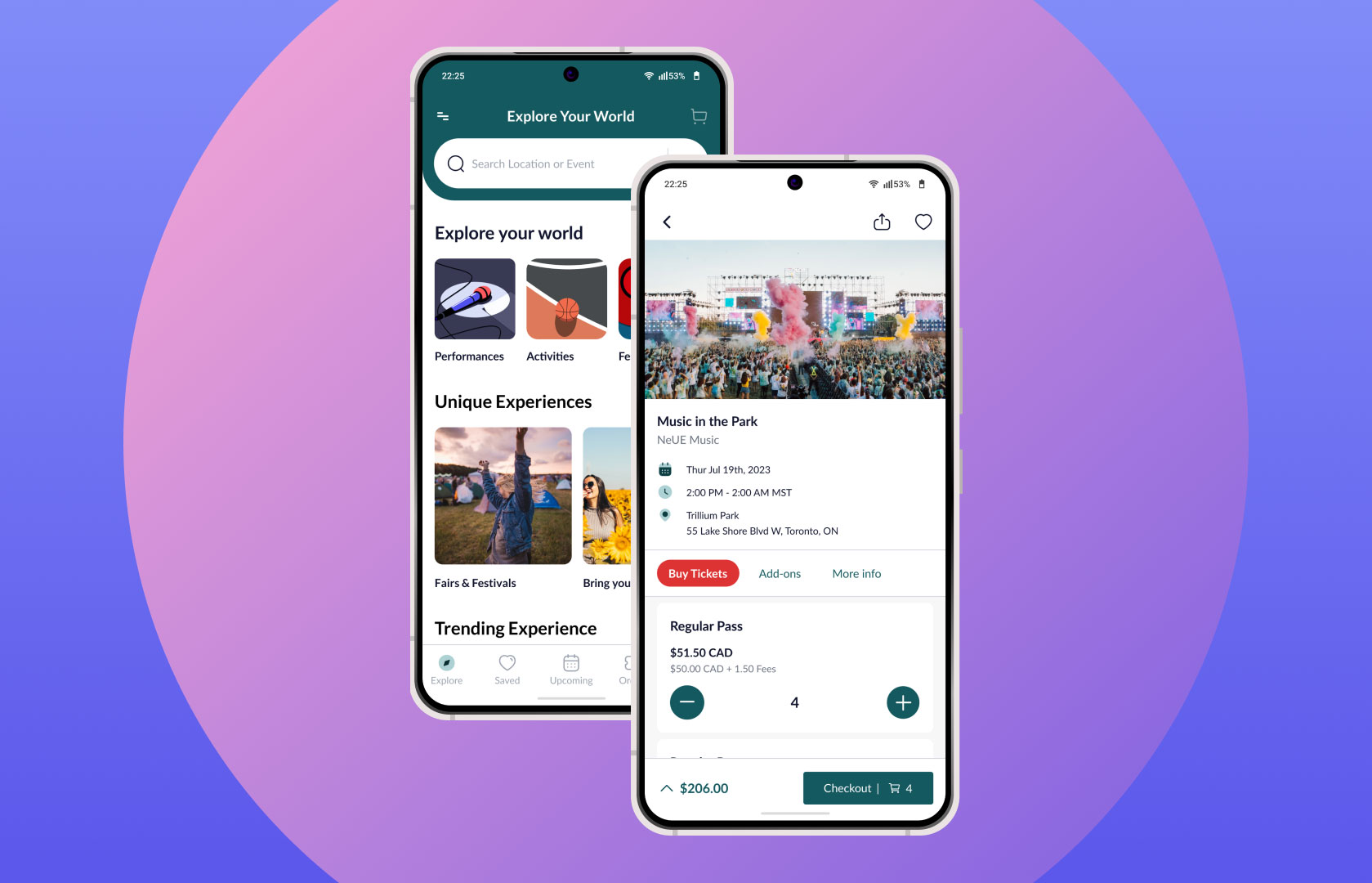 Showpass is another fantastic event app that can help you streamline different aspects of your event. This event app allows you to design and customize assigned seating maps, access real-time data, brand your event page, scan tickets, list your event on the Showpass directory, build member-only packages and offerings, and use other great features and tools. It doesn't limit the number of events executed per year or the number of attendees, company members, or exhibitors. However, that comes for free only if you are hosting a free event.
Which capabilities are included in the paid licenses of the Showpass event app?
All of the licenses that Showpass has are paid licenses if you are organizing a paid event. If you are organizing a free event, then all of their licenses come for free. Therefore, depending on which pricing you choose, the paid versions of Showpass are packed with the above-mentioned capabilities as well as selling tickets. The quantity of tickets sold determines the price of their licenses. The ticket commission fee starts at 1% plus $0.59.
All in all, Showpass is a reliable, user-friendly, and feature-rich event app that primarily focuses on ticket sales.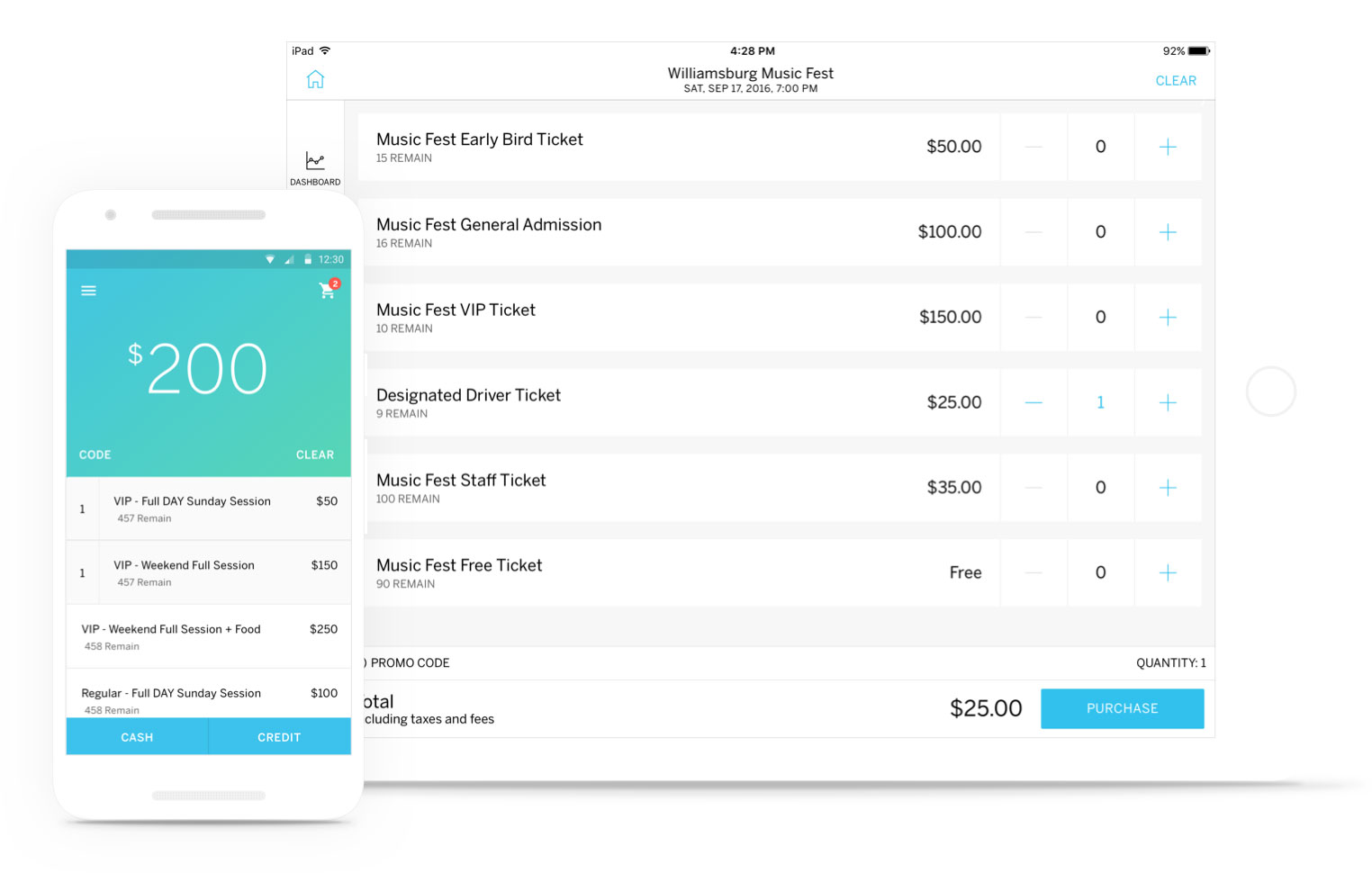 Eventbrite developed the event check-in app known as Eventbrite Organizer. It provides a seamless experience for managing and organizing events, offering features such as check-in, ticket scanning, attendee tracking, real-time updates, and unlimited listings on the Evenbrite directory. Just like the previous event app, this one is also completely free for those events that are free of charge.
Which capabilities are included in the paid licenses of the Eventbrite event app?
The paid version of Eventbrite Organizer includes all the above-mentioned features as well as features such as payouts before the event happens, the ability to sell tickets on your own website, flexible ticket types, and other features related to ticketing. However, it is important to note that the paid version of Eventbrite Organizer only joins the game if you are organizing a paid event. Considering that Eventbrite Organizer is mainly an event app for ticketing, if you are organizing a paid event, the pricing depends on how many tickets you have sold. The commission fee starts at 3.7% + $1.79 + 2.9% payment processing fee per order.
In case you are looking for an event app focused mainly on ticketing, Eventbrite Organizer is a nice choice as it is packed with a number of great event ticketing features!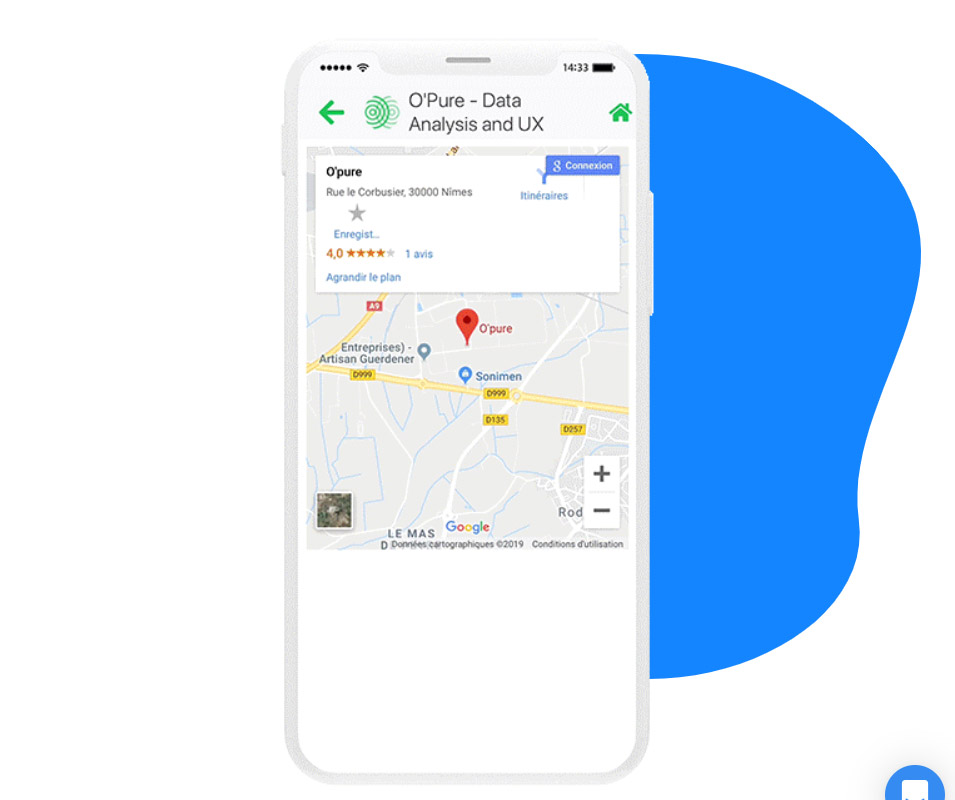 Conf.app is a very simple and user-friendly event app that can easily serve your purpose if your goal is to organize a small and simple event. This free event app enables you to host one-day-long events with 50 attendees, one stage, and two speakers. In terms of its features, Conf.app extends its offering to include one push notification, unlimited agenda entries, customization, networking, F&Q, and the ability to build two "mini-apps" in order to integrate existing web apps such as live streaming, chat, and voting.
Which capabilities are included in the paid licenses of the Conf.app event app?
The paid licenses of Conf.app enable event organizers to increase the event duration, attendee and speaker capacity, number of stages, mini-apps, and push notifications. In addition to the features included in its free version, Conf.app also offers private access.
Conf.app is a nicely designed, simple event app that can definitely do a great job if you are organizing smaller events.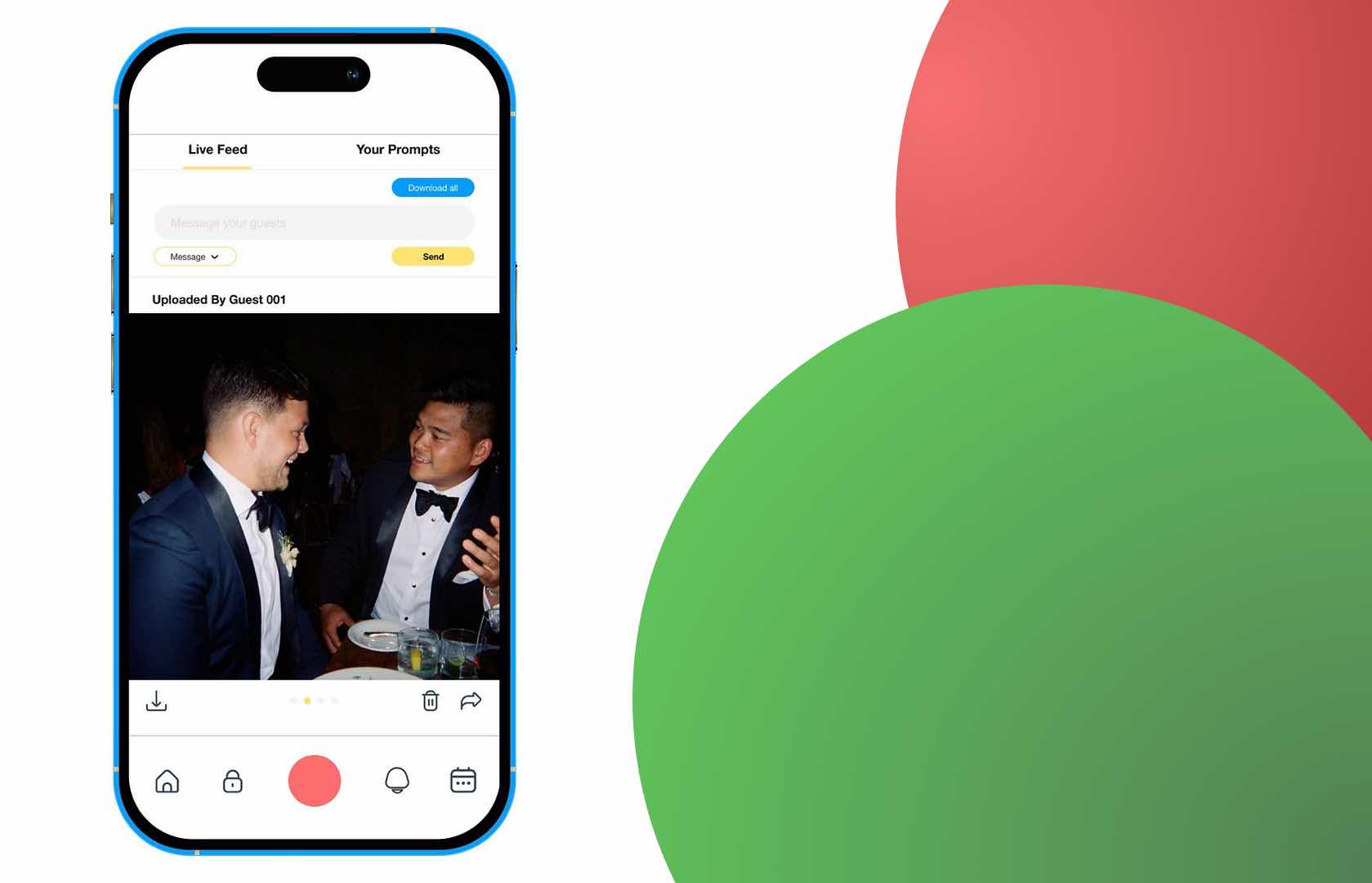 Similar to the Eventbrite Organizer event app, Confetti is also an event app that is rather focused on check-in. With this event app, you can swiftly check-in attendees at the door and keep track of who has already registered. Although the mobile event app itself doesn't have other capabilities, it does come as a part of their event management platform's free license, which includes the possibility to execute unlimited events, customization, social media optimization, email campaign automation, embedding video streaming services, ticketing (5% commission fee + $0.46 per ticket), and other valuable features. You can use Confetti for free for two events per year.
Which capabilities are included in the paid licenses of the Confetti event app?
If you decide to purchase some of the paid licenses of Confetti, besides the free core features, you also get an increased number of email credits, more events per year, name badges, a Stripe connection for ticketing, third-party integrations, etc.
Confetti is a well-packed event management platform that can be used for different types of events; however, its event app is primarily for onsite events as it is mostly for accelerating the check-in process.
To Wrap Up
As a result of the event business becoming more digital, a variety of event applications have emerged with the goal of improving the overall event experience. These apps include a variety of tools and capabilities to enhance networking, information distribution, and attendee engagement. In this blog post, we reviewed and featured a number of the best free event apps.
Among the event applications mentioned are Agorify, Eventee, Swapcard, Webex Events, Showpass, Eventbrite Organizer, Conf.app, and Confetti, each of which offers distinctive features and functionalities. The commercial licenses for these apps enable extra features like higher attendee capacity, advanced analytics, ticket sales, lead retrieval, branding options, and platform integrations, even if the free versions of these apps offer a strong basis for managing events.
Your individual event needs and budget must be taken into account while selecting event software. There are event applications available to suit your needs, whether you're planning small or large-scale events on-site, virtually, or in a hybrid environment.
However, when it comes to functionality and feature richness, Agorify is definitely the best free event app, as it offers 100+ features for an unlimited number of events with 200 attendees. To learn how to make the most of Agorify for your event, talk to our event platform and app experts.