Misconception #1: Hybrid Events Need TV Production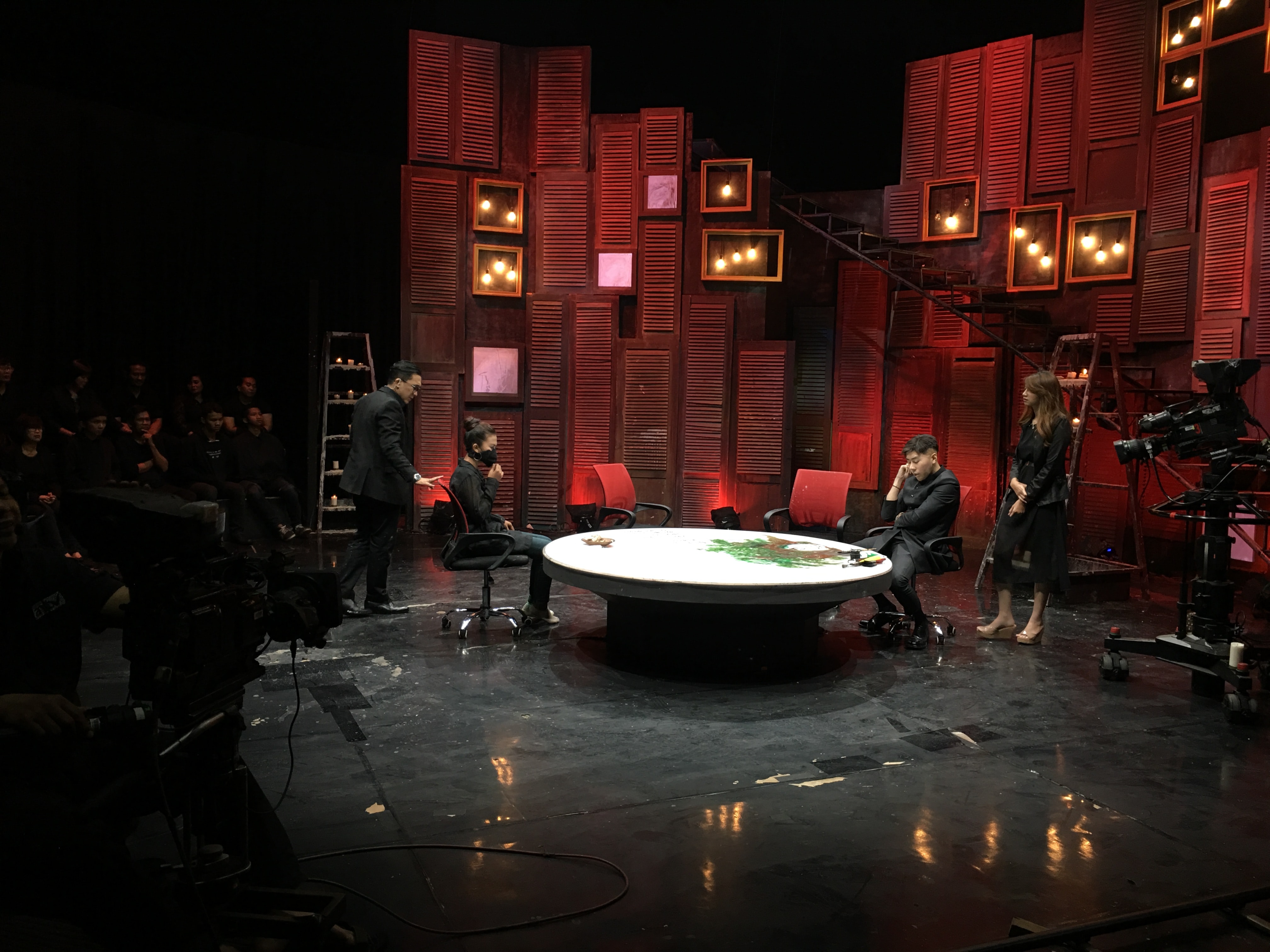 There is a common misconception that hybrid events should look like TV shows, similar to Lets Dance or Dancing with the Stars. Or that they need 4k quality videos, great stage setting, dramatic lighting, green screens, awesome moderators with pre-rehearsed scripts and Rembrandt light setting on them, etc.
The idea here is that with better production quality you will increase attendance and brand awareness, maintain viewer attention and increase attendee engagement and that delegates and sponsors will be happy.
This can be the case for TV channels, Netflix, etc, where viewer acquisition and retention are of the highest importance but events are much more than one-way communication. And as more online and hybrid events are done with such thinking, so do the TV production ambition and cost that come with it.
The truth is that although the TV production level will present your event and your organization in a great light, delegates and sponsors are still attending the event for the same purpose as before the pandemic. They are still there to learn, share thoughts, and network with each other. More the emphasis is on the quality of production rather than the attendee expectation and what they perceive as a value of the event, further you get from getting your ROI from your hybrid events.
Having a TV production level of an event can require renting a venue with professional studio equipment, scene, and highly skilled technicians. It also requires more time for all involved as everything needs to be scripted, rehearsed, and scheduled.
Instead of that when planning your hybrid events such as conferences, you should invest your time and resources in optimal production quality and a bigger emphasis on networking and knowledge/experience sharing. For optimal production, you can use very basic settings and equipment that you can find in most of the event venues. For increasing knowledge sharing and networking, dedicate time for Q&A, round table discussions, fishbowls, panels, open discussions, one-to-one meetings, unconference type of features, and much more.
Keep in mind that online viewers lose interest not because they felt your production is not of the Netflix standard, rather because you have failed to engage them in the first hours of the event and make them feel part of your event.
Misconception #2: You Need TV Production Level of Equipment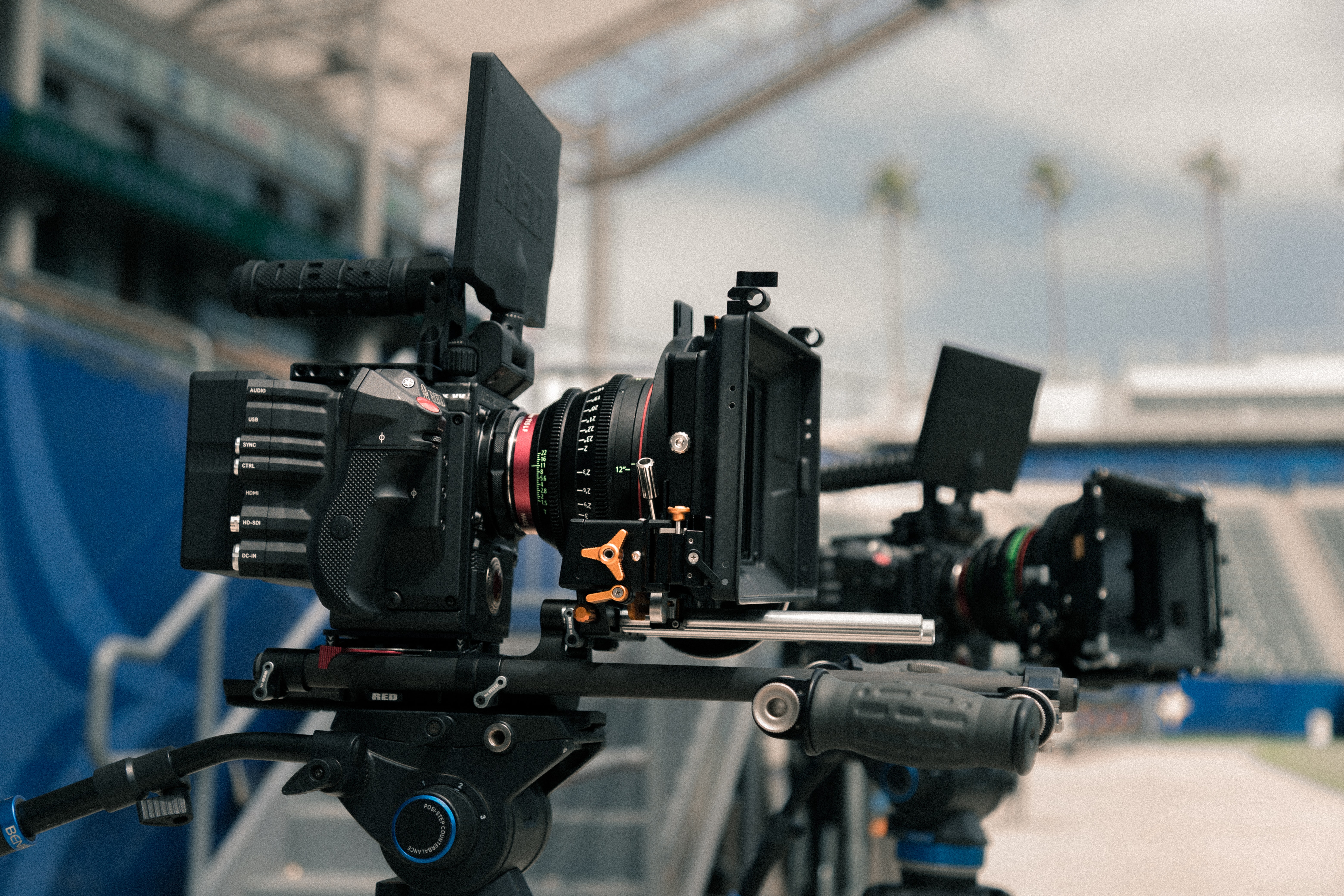 This is also very common. When someone mentions streaming a hybrid event, the first thing that usually comes to people's minds is that the equipment is most likely extremely expensive. This is because they assume that for streaming a hybrid event they need to have TV production equipment and a team - which couldn't be further from the truth.
In general, as we mentioned above, the cost reflects your ambition. In a research done by Hyperight earlier this year, most of the delegates that attended their online corporate events, have said that it is more important to have a good view of the shared content and clear sound, rather than the quality of the presenter's video.
For basic experience, all you need to either stream or record a hybrid event while the speaker is online is a mobile phone with a headset or an everyday computer with a camera and a headset. If you are doing an onsite recording then you can use a single video or DSLR camera connected to your PC through a simple and cheap streaming adapter (ex. Elgato Cam adapter).
All event venues usually have a good centralized audio installation which you can use for your audio input/output setting. Even if not doing hybrid events, you will need an A/V technician for your event, therefore, while having one make sure that you maximize their efforts.
When it comes to running panel discussions you can easily set the camera on a tripod and make small movements with it in order to capture different angles. For some of our events, we have experimented with camera solutions like Mevo which enables you to switch angles easily through your iPad. Today's technology is so advanced that you have a variety of ready-to-go streaming camera solutions starting from 100 dollars and above.
Therefore, considering how simple this is and with some short training, you wouldn't have to even hire a professional videographer and even less a production editing staff as many think.
Tip: When streaming a session, focus at least ¾ parts of the screen on the content shared, think about what onsite attendee experiences and try to mimic that in the platform.
Misconception #3: Hybrid Event Management Platforms Are Too Costly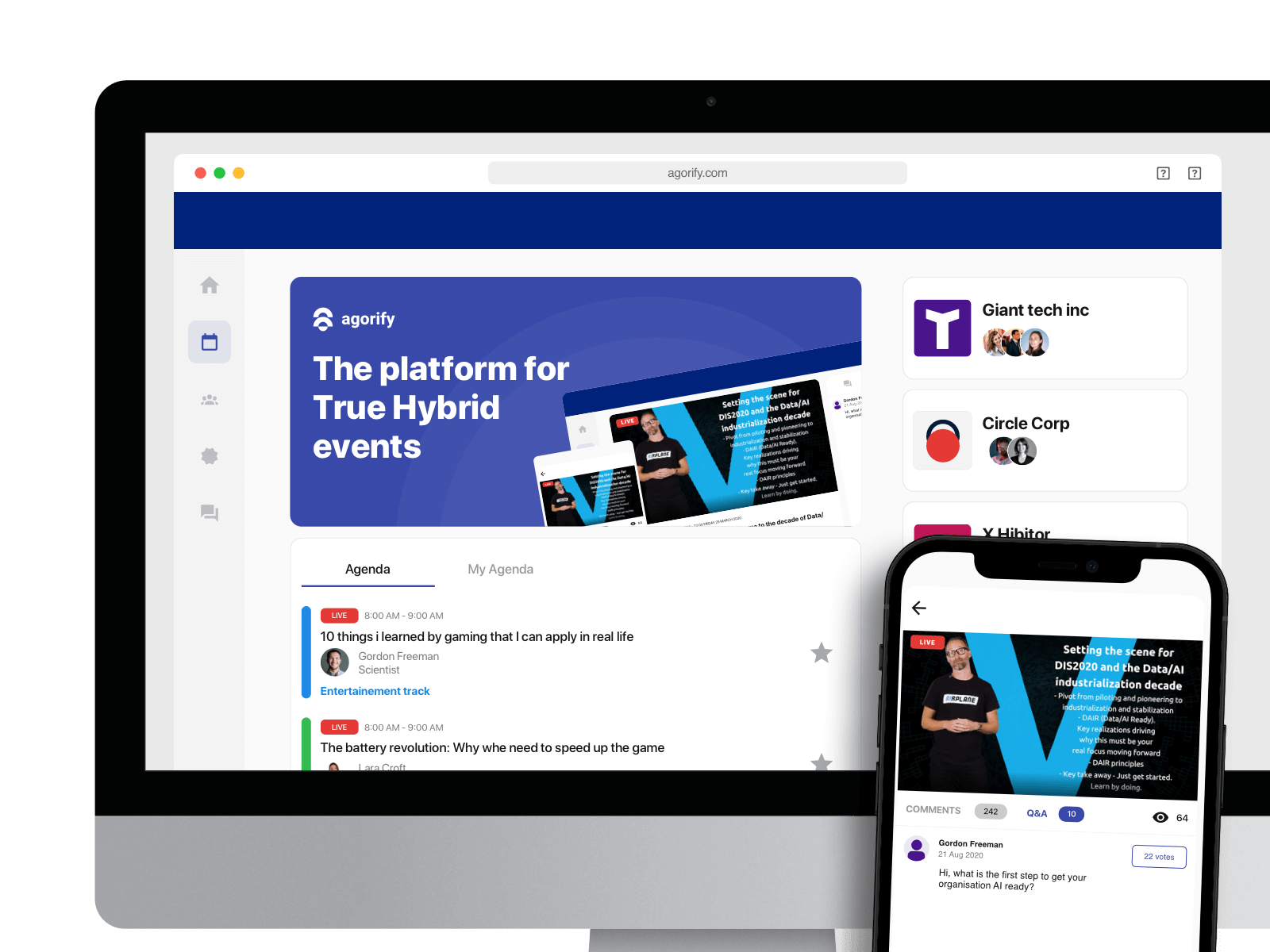 In general hybrid event management platforms are not costly at all. What it costs is the project management around your event. For example, our platform Agorify, and a number of others out there are fully self-service event management platforms. The pricing is very transparent and you can calculate it very easily here.
With this in mind, what we have experienced is that many event organizers either often lack the know-how, don't have a dedicated person within the company who is skillful in online event platforms and execution, or would rather outsource the entire hybrid event project management to a third-party organization, in this case, the event bureau or the event platform host like us.
Outsourcing the hybrid project management of your event from one side is smart as it is always good to have the best people working on your event, however, this comes with hourly or project cost which obviously will increase the total cost of executing the event in a hybrid setting.
To minimize your hybrid event cost, just dedicate a person in your organization that will be responsible for your online event execution practices, find a technology that works for your type of event, and align your old or new processes around that.
Having consistency in your setup and process will also enable you to optimize your performance, enhance your customer experience, help you find your sweet spot and ways to monetize your hybrid events.
Tip: Event management platform providers like us, often hold and can provide you with best practices in planning, executing, and monetizing hybrid events and even provide project management services if needed.
Misconception #4: Selling Hybrid Tickets Is Hard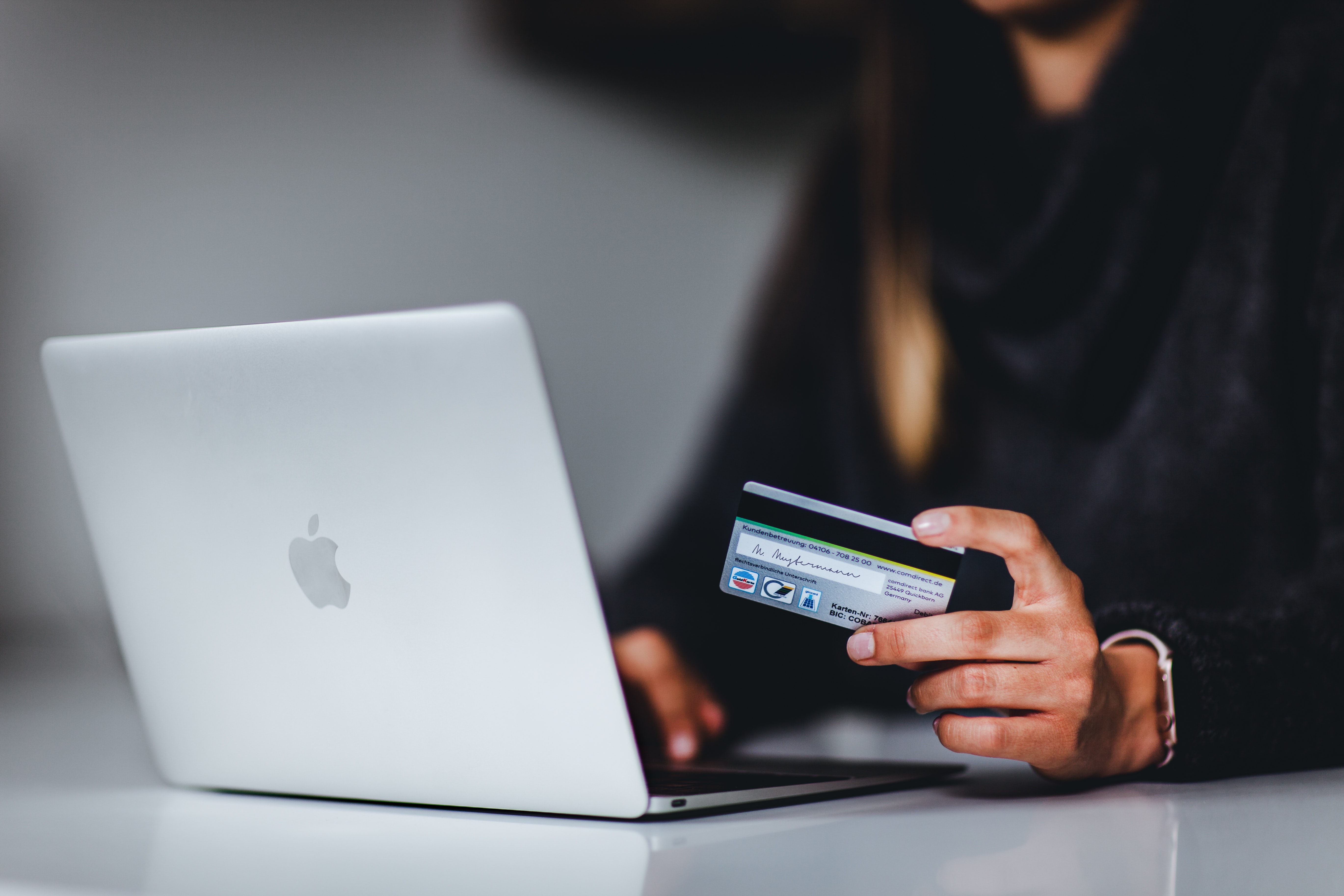 One of the biggest misconceptions in terms of executing hybrid events is that online tickets are hard to sell and therefore many choose to provide them for free. The bad part of this is that by giving the online tickets for free you are devaluing your product and losing a major way to monetize your hybrid events.
Think about this. If you sold an onsite ticket to an event for 300$ and today you are selling the online ticket for the same event for 0$, what are you actually saying to your customers about the value of your event? Can it be that the entire value of your product is not in the carefully curated content, the format, and the speakers/entertainers attending, rather than the online experience usually achieved through catering, venue location, arrangement, setting, etc.? Why would your customer tomorrow buy the same ticket for 300$ if they know that the content presented at your event costs 0$ to produce and provide? If you are an event organizer you know how much effort and cost is involved in curating high-quality, valuable, and exciting content for the attendees.
So instead of providing your value online for free, break your pricing to content plus experience and price it according to the customer's willingness to pay and your cost. The content part should always be the same no matter the format, yet the experience price part can differ based on the features associated with the experience.
What's more, with this type of pricing you can even offer tier tickets and allow your attendees to decide whether they want to attend online, online, or only specific sessions or the overall event. In case they would like to have access to all the networking features such as Q&A sessions, green room, virtual round tables, etc. you can offer them a Premium ticket tier.
In other words, by adding more value to your hybrid event, you can charge more and boost your ROI.
Therefore, if you truly want to cut costs of your hybrid event then you should definitely be smart with the pricing and monetization of both your online tickets and your content.
Misconception #5: Hybrid Events Take Too Much Work and Effort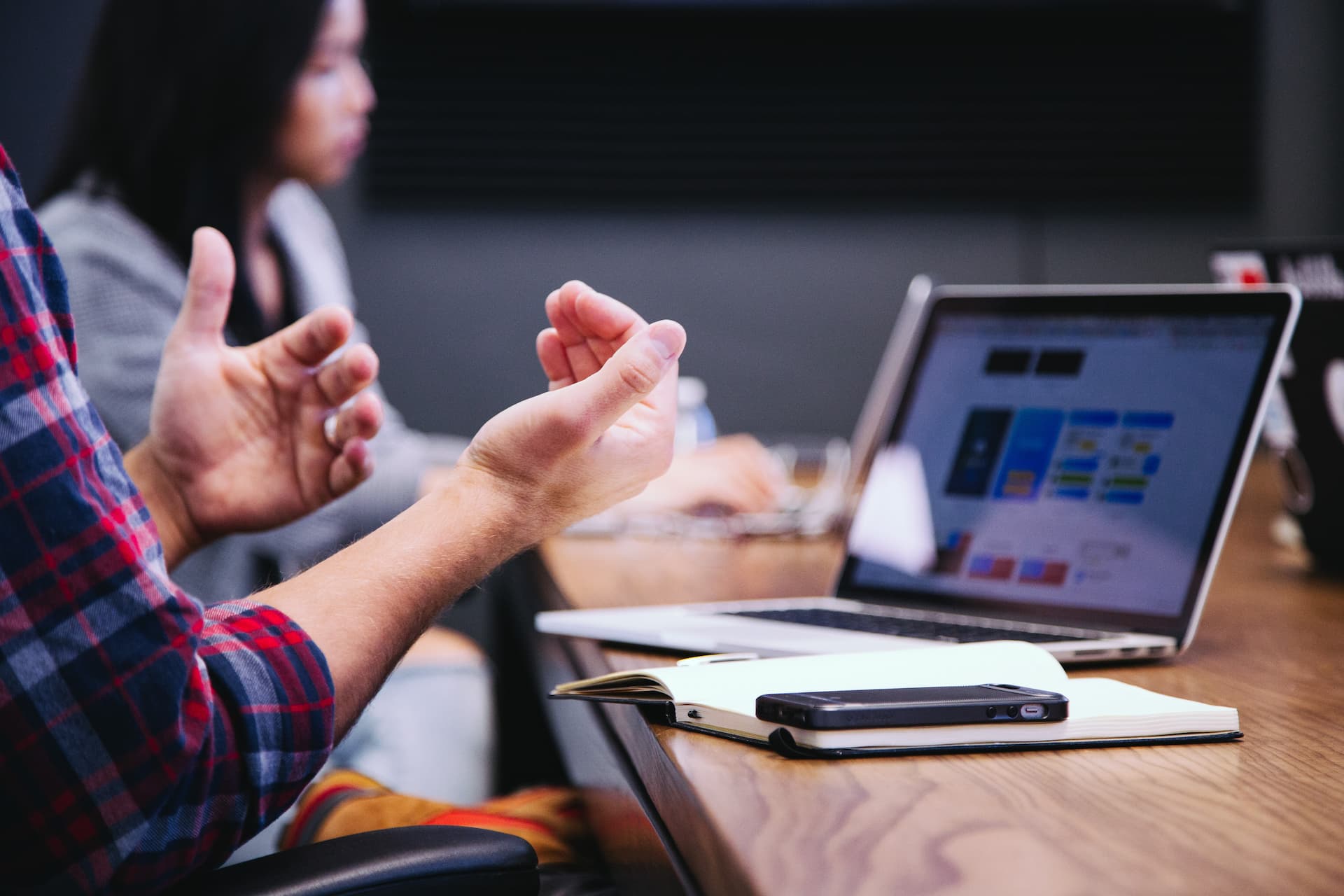 One of the biggest misconceptions that people have about hybrid events is that they take too much work and effort. Considering that they are relatively new on the market, this fear is completely understandable as people also fear the unknown. However, it is also unfounded.
Hybrid events are not as complicated to execute as many believe. In fact, if you use a True Hybrid platform such as Agorify and guidance from a team like ours, you can easily organize a hybrid event with all the capabilities that hybrid events should include.
An important thing to remember is that hybrid events are a synonym for equal opportunities. When organizing a hybrid event you should always stay balanced and provide the same content and networking opportunities to all your attendees regardless of their location.
This is extremely important as your onsite and online components of the hybrid event shouldn't feel like two different events.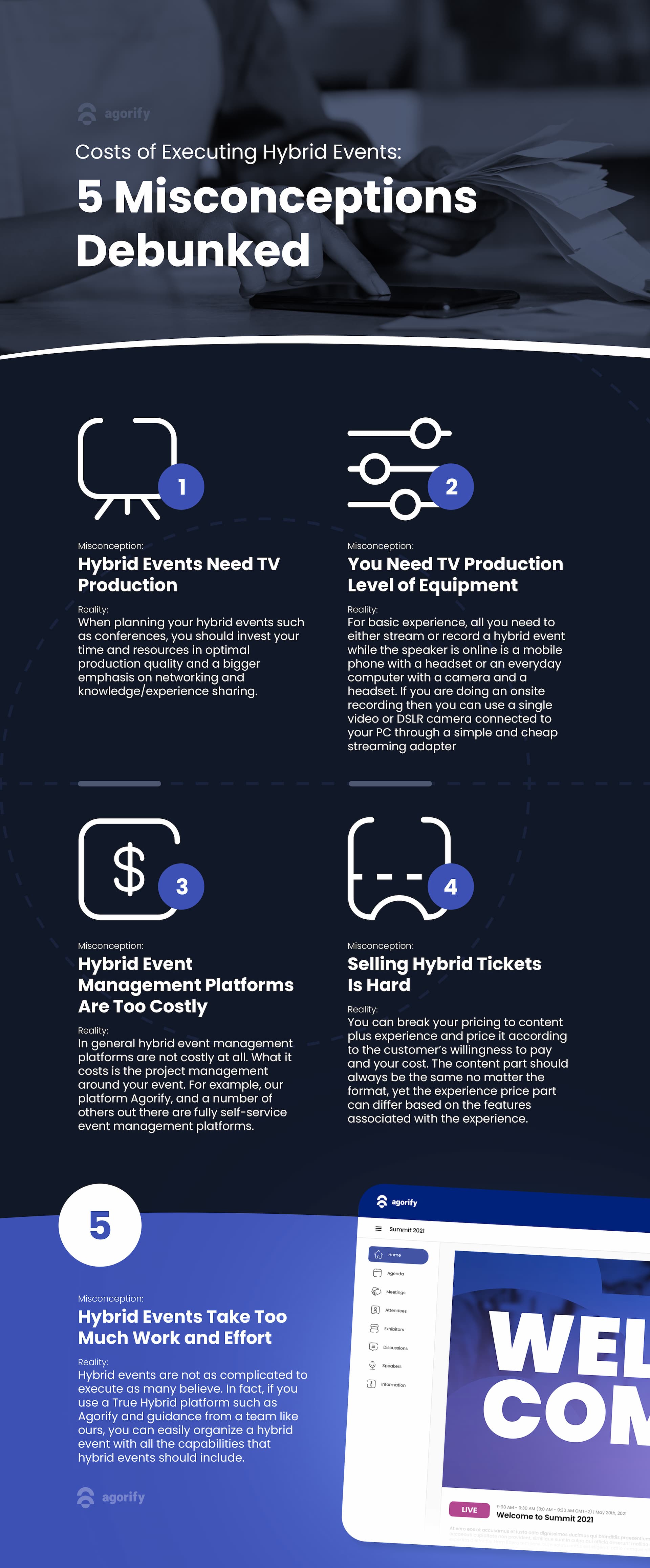 To Wrap Up
Despite being relatively new on the market, hybrid events are slowly taking over the event industry. However, despite the many benefits that come with hybrid events, there are still some misconceptions that event pros have regarding them.
Hopefully, this article helped you out to gain a better understanding of the costs of hybrid events and its overall execution. And don't forget that Agorify can help you out so make sure to join us now!