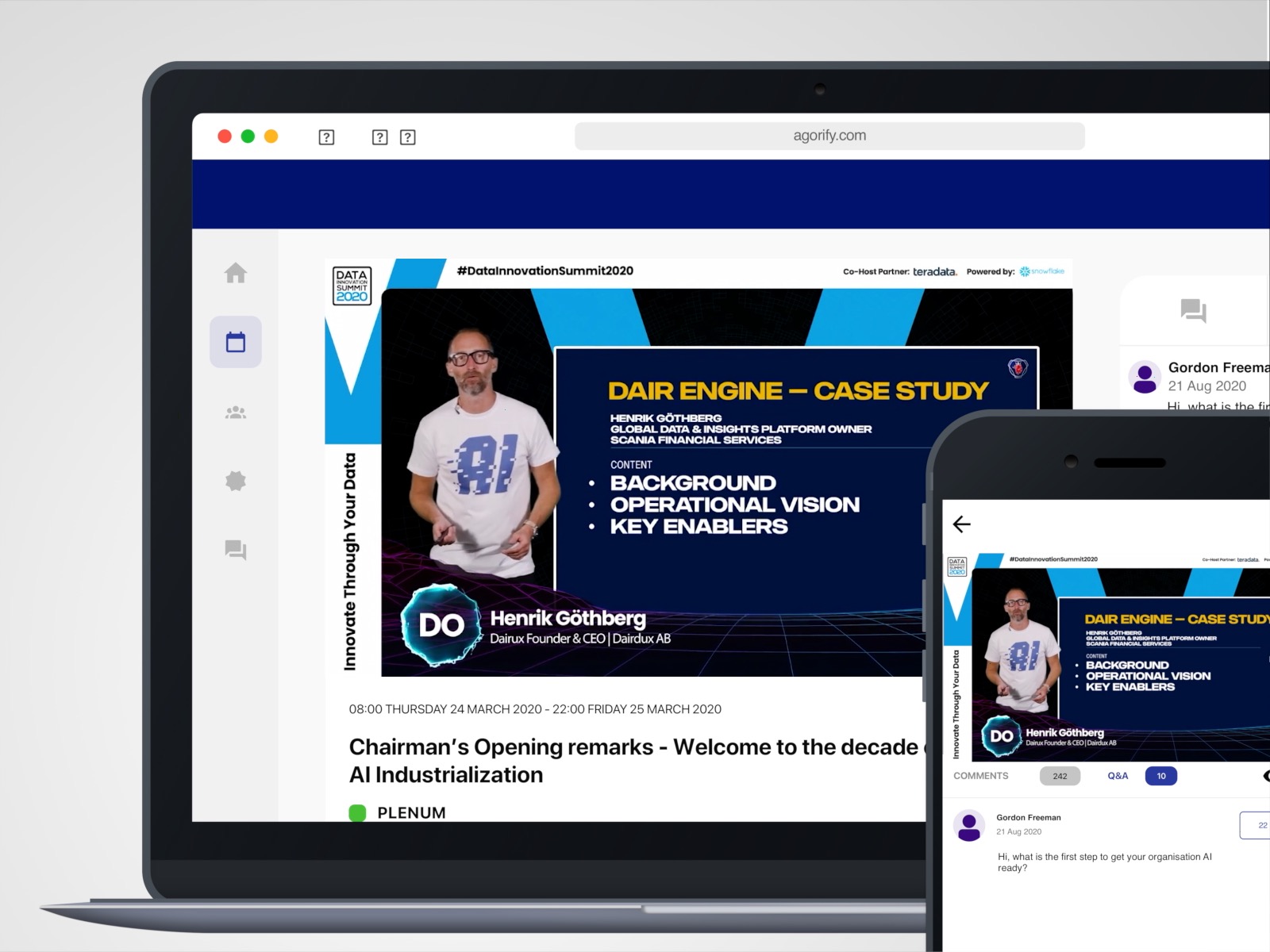 Event technology has reshaped the event industry landscape and taken events to a whole new level. Hopin, the British-owned event management platform founded by Johnny Boufarhat, has played a tremendous role in this journey over the past three years. However, many Hopin users have started looking for the best Hopin alternatives now that RingCentral, an American cloud communications and collaboration platform, has acquired Hopin.
We've crafted a list of some great event management platforms that can help you host onsite, virtual, and hybrid events. Keep in mind that, despite the fact that their purpose is the same, each one of them has features that set them apart. In addition, they also differ in pricing, the size of the events they are capable of supporting, customer support, etc. Therefore, without further ado, let's jump right in and find out which are the best Hopin alternatives and competitors.
Agorify
If as commonly said, Hopin can host up to 100 000 viewers per session, Agorify can host that number and more across 100 001 sessions going in parallel. Agorify is the crown jewel of all End-to-End event management platforms, especially for midsize and large complex events with multiple stages, engagement features, long event timelines, continued on-demand periods, a large volume of onsite or online attendees and exhibitors, monetization opportunities, and much more.
Although built to satisfy the expectations of any organizer, delegate, or exhibitor, no matter if onsite, online, or hybrid format, where Agorify shines is in its reliability, self-service, flexibility, scalability, affordability, and opportunity for revenue increase. Through Agorify, organizers can take full control of the event process, customer experience, cost, production, and revenue generation.
Agorify's solutions include but are not limited to registration and ticketing, native-live streaming, simulated streaming, virtual round tables, breakout rooms, app badge scanning, self-check-in, on-demand badge printing, digital agenda, live Q&A, chat, one-on-one meeting capabilities, virtual silent room, virtual exhibitor booths, AI event chatbot assistant, data-driven insights dashboard for exhibitors, etc.
In other words, Agorify is an event management platform and app for game-changers who aim to revolutionize the event industry by providing an ingenious, continuous event experience as opposed to a transient one.
To read a more detailed comparison between Agorify and Hopin and discover why Agorify is definitely on the top of the best Hopin alternatives, make sure to read our other blog post covering that topic here.
Create your free account here
Mobile app: Yes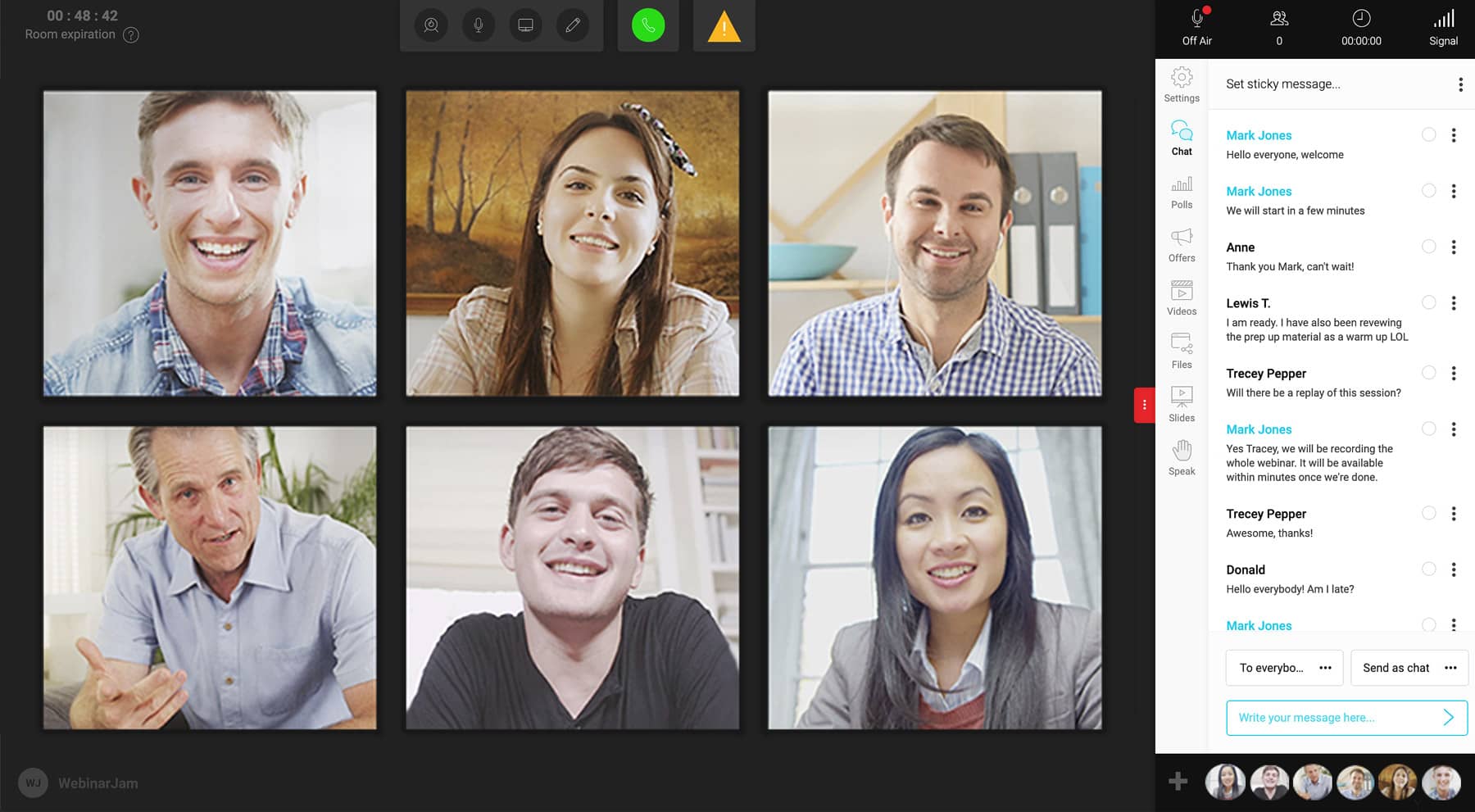 The second event platform on our best Hopin alternatives list is WebinarJam. Unlike Agorify which mainly specializes in complex and large-scale True Hybrid events, WebinarJam's main focus is webinars where participants can engage with each other by using features such as Q&A sessions, one-on-one sessions, and live chat.
However, one of the most interesting features that WebinarJam brings to the table is the fact that it has highly customizable webinar templates that event organizers can easily customize and use for their own webinars that they can also stream through YouTube Live.
In addition, this event platform also offers an in-built auto-responder, automatic webinar recorder, data analytics, and many other exciting features!
Mobile app: No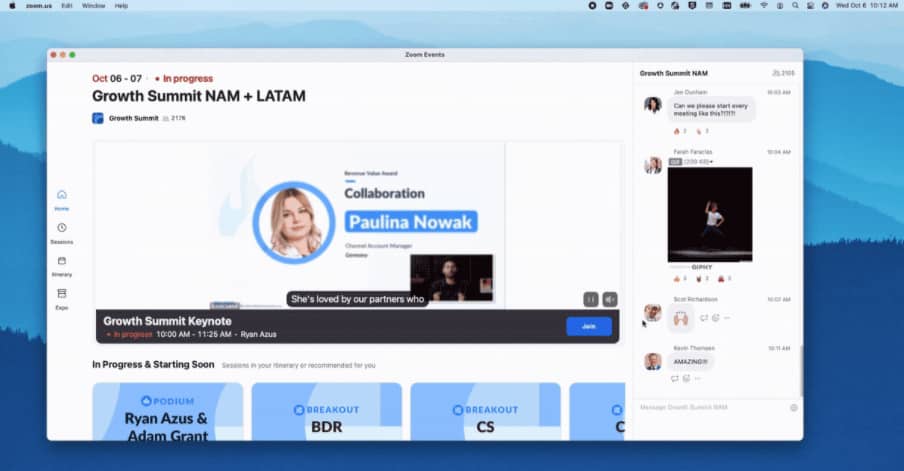 Although Zoom was initially created in 2011, it only gained popularity during the pandemic when people massively started using it for videoconferencing, webinars, and virtual events. To keep up with the high demand, the company decided to release Zoom Events - an all-in-one virtual event platform just like the other alternatives to Hopin.
Zoom Events has features that can help event organizers design, host, and execute a virtual multi-day and multi-track event.
With this competitor of Hopin, event organizers can also enhance the engagement among participants as for each one of them, there are specific features that they can interact with to get a full virtual event experience - which was not the case with their initial platform.
Mobile App: Yes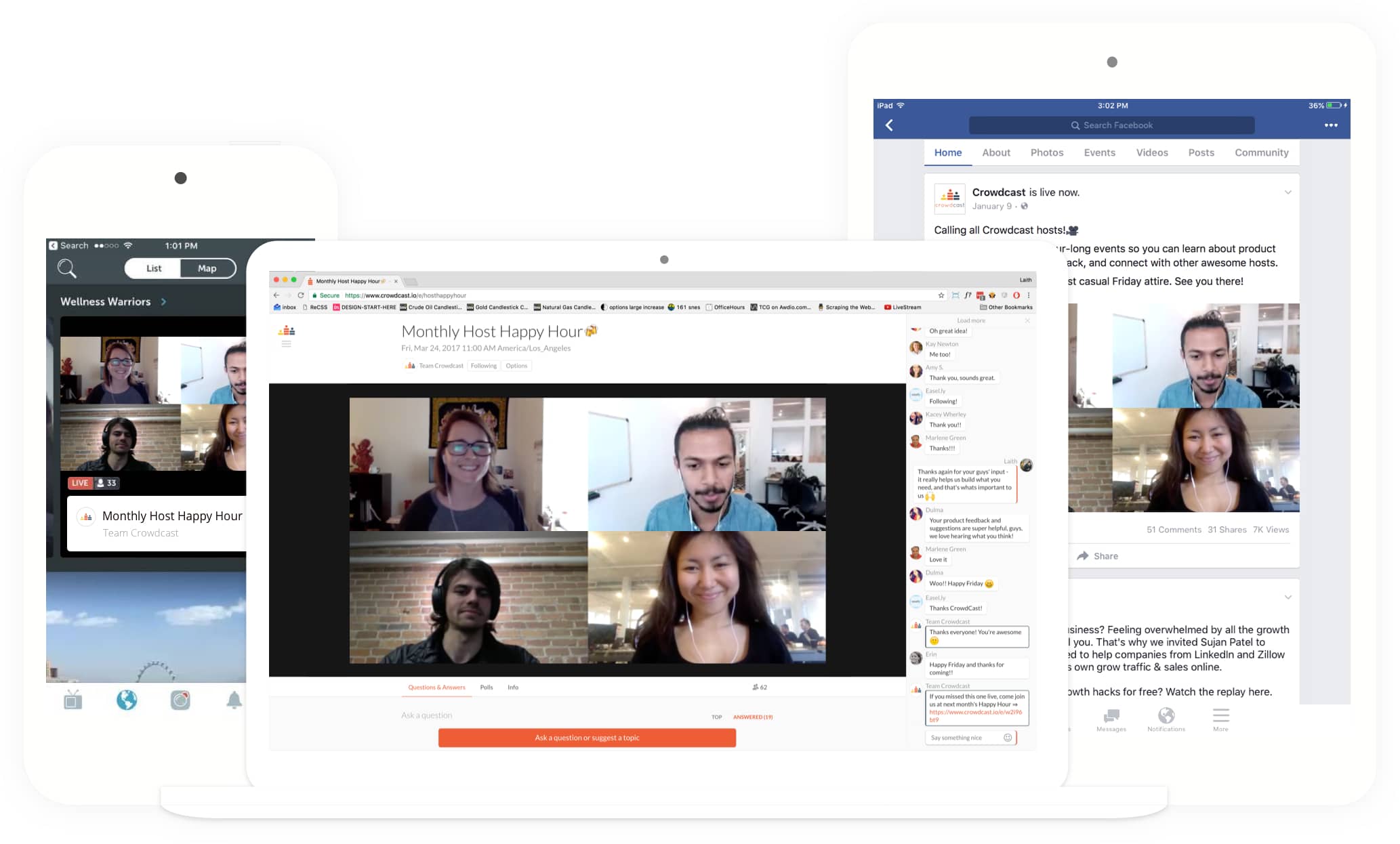 Another event management platform that makes a great Hopin alternative is Crowdcast. This browser-based event solution provides an interactive experience for the participants as it offers live chat, Q&As, face-to-face meetings, polls, and other must-have basic features for any platform of this kind.
Moreover, Crowdcast allows event organizers to multistream, record the sessions, offer split or multi-screen capabilities to the speakers, gain insights into advanced data and analytics gathered from their event and audience and much more!
Mobile App: Yes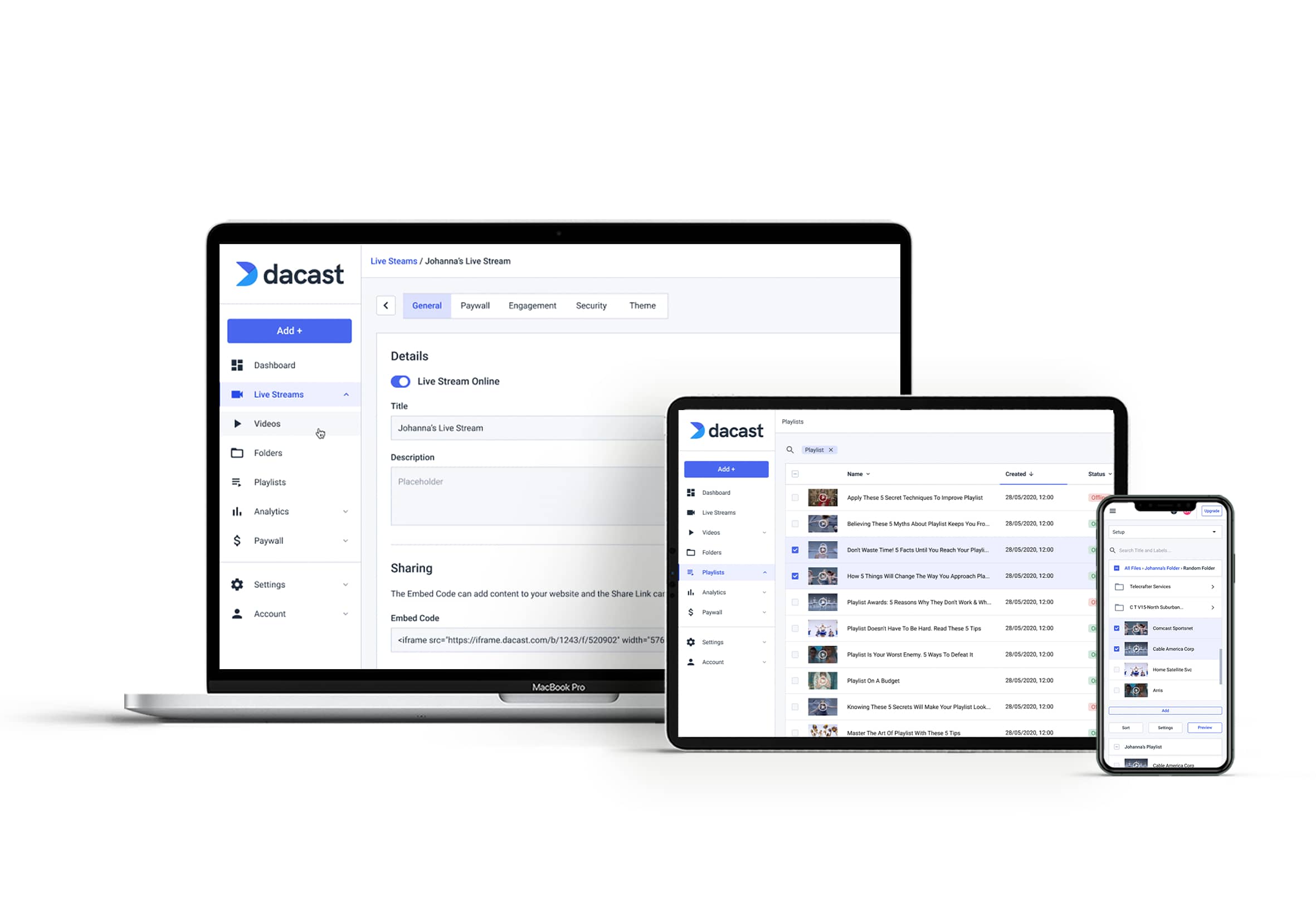 DaCast markets itself as an "all-in-one streaming platform that provides live and video-on-demand streaming solutions." This event solution offers the possibility for content creators and media companies to either live stream their event or provide it to their audience as on-demand content.
It is used by organizations from a variety of industries such as sports, enterprise, media and entertainment, religion, nonprofits, and, of course, event production companies.
Being slightly different from the above-listed Hopin alternatives, DaCast also features broadcast to social media networks, live countdown, real-time analytics, media player API, HTML5 video player, subscription management, etc.
Mobile App: No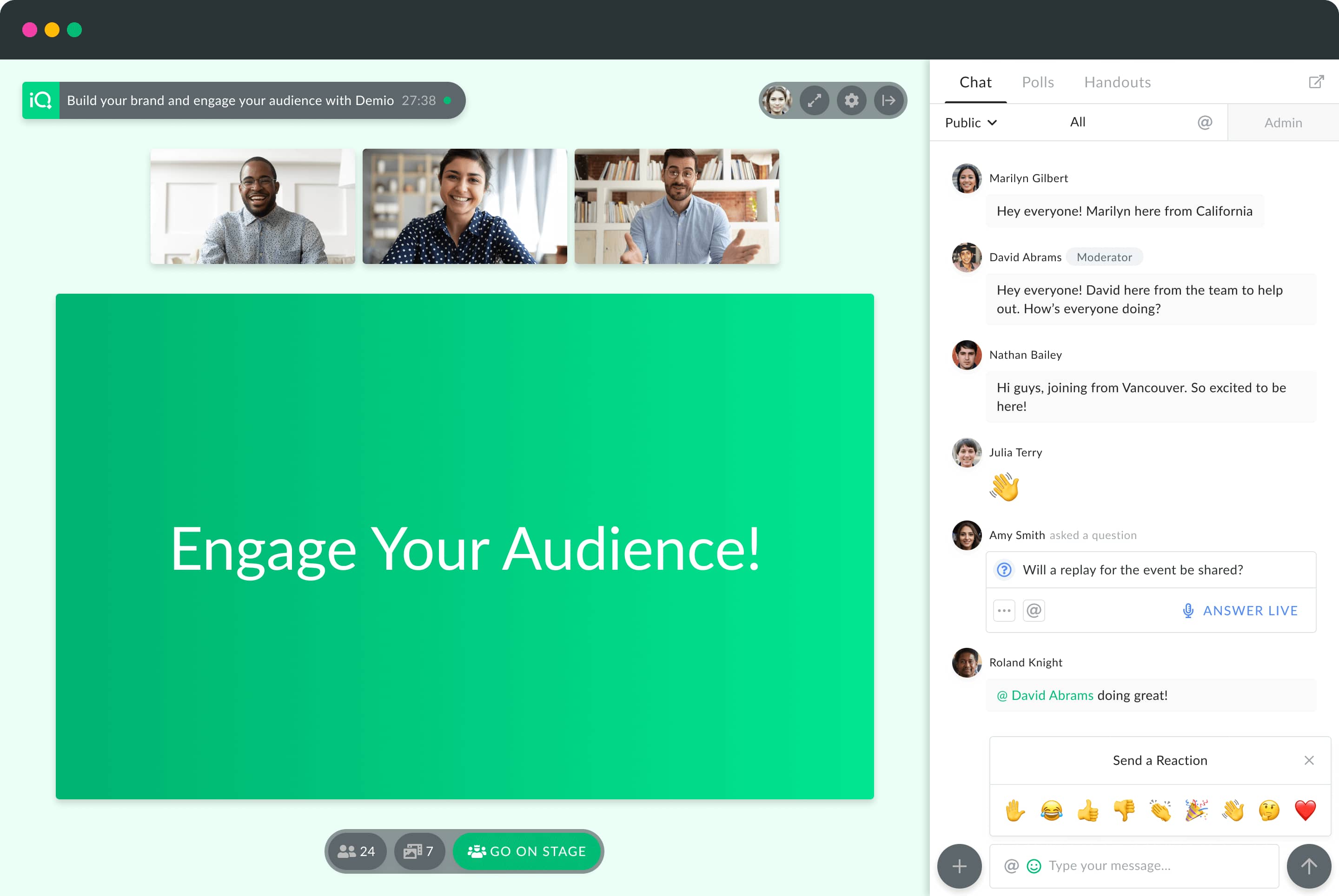 Demio - "the Hassle-free Webinar Software for Marketers" is an event platform that offers integration with a number of marketing tools to improve conversions.
Besides building a fully customized webinar or another form of online events, Demio also offers the possibility for a content-replay, pre-recorded sessions, interactive polls, Q&As, the ability to link the audience to an offer, provide attendees with the chance to join the sessions with a webcam and mic, analytics, and other features tailored to virtual event execution, particularly webinars.
Mobile App: No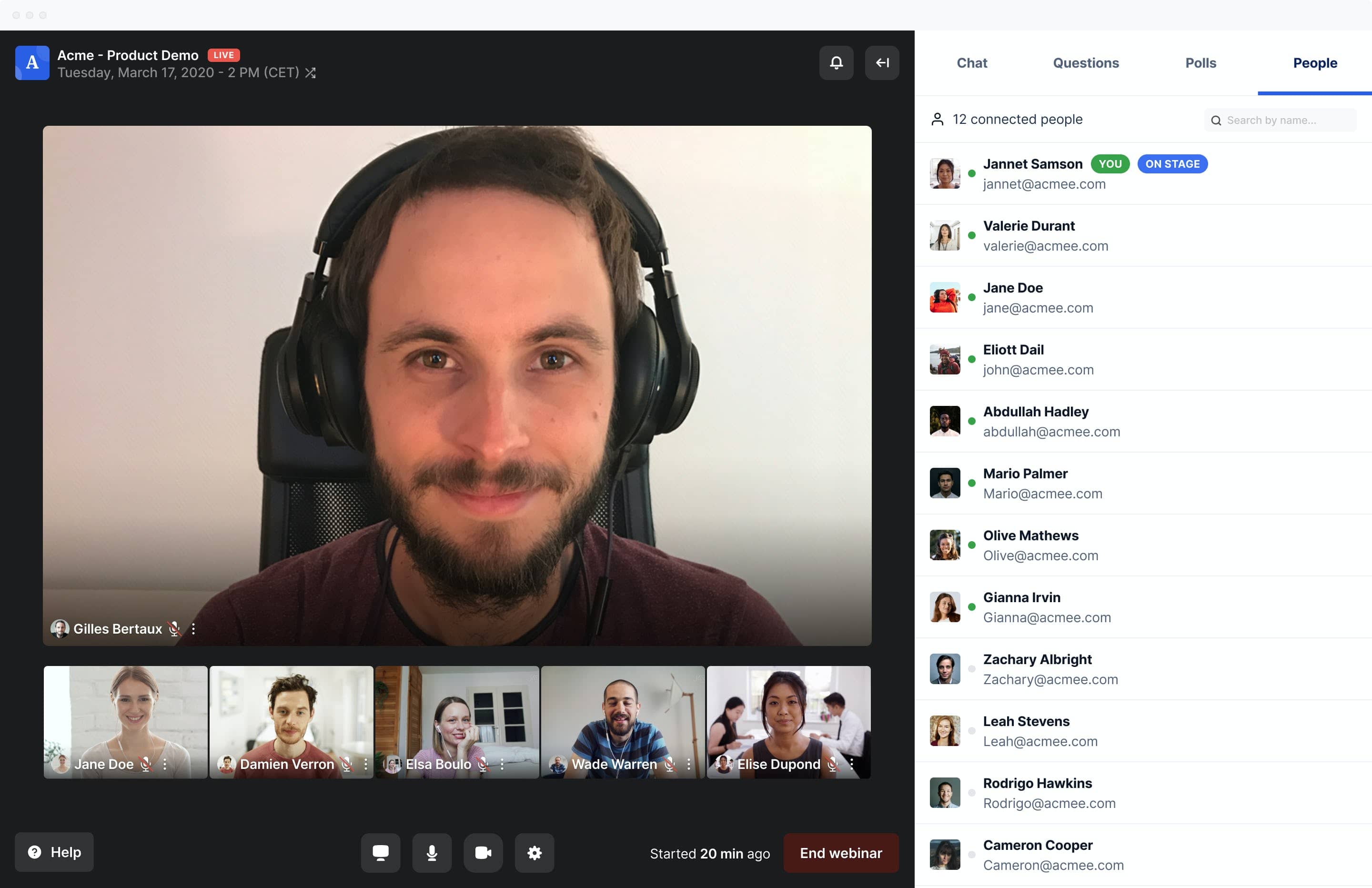 The next one on our list of the best Hopin alternatives is Livestorm. It is a browser-based platform that specializes in webinar and virtual events management regardless of whether they are small or large.
Just like the previously listed platform, Livestorm also offers engagement features like responsive polls, chat and Q&As. Besides live streaming and sharing content, event organizers are also able to redesign the session rooms in order to match the event's branding, build registration pages, automate promotion, measure performance, and so on.
Livestream also has the option for creating automated webinars with pre-recorded sessions as well as allowing them to be attended on-demand.
Mobile App: No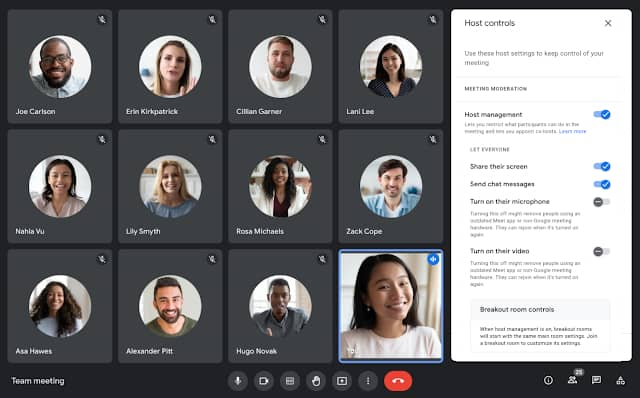 Most people have already heard about Google Meet. As the name already suggests, it is a video conferencing app released by Google. Despite that its main purpose is video conferencing and not hosting events, this app allows up to 200 people to participate in video meetings. It makes it a perfect solution for smaller events looking for a Hopin replacement
The best thing is that if your event has up to 30 attendees, event organizers can use the platform completely for free with a Basic account. It is also very simple to use, they should first send invitations to each attendee, and those who accept it will have the event scheduled on their calendar and automatically reminded before the event/meeting starts.
Attendees could also engage with each other and with the speakers by either using the chat or via webcam, participating in polls, Q&As, or the speaker can put them in smaller "breakout" rooms for more targeted discussions.
Mobile app: Yes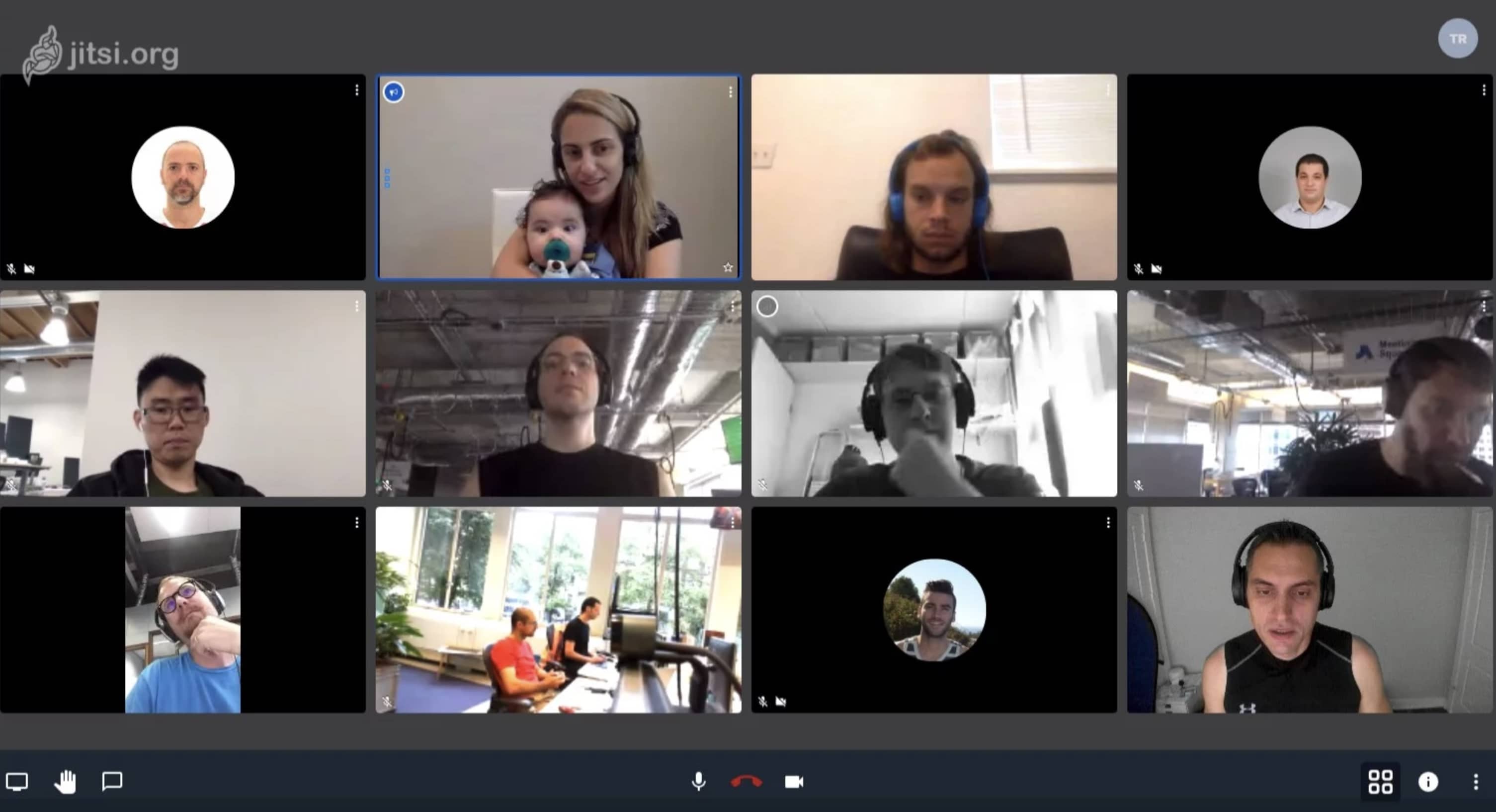 Jitsi Meet is very similar to Google Meet, however, it supports a slightly bigger attendee capacity - 50. And it is completely free as well!
It is a very simple meeting app that you don't even need to have an account created to start the event/meeting. You can start it immediately or you can book a meeting URL in advance and share it with the attendees.
Built-in a very simple way, the platform allows basic screen sharing and presentation, live streaming options and a live chat where participants can communicate with each other.
Another great thing is that it has a feature where one can remotely control other participant's desktops, making this platform perfect for workshops and training.
Mobile app: Yes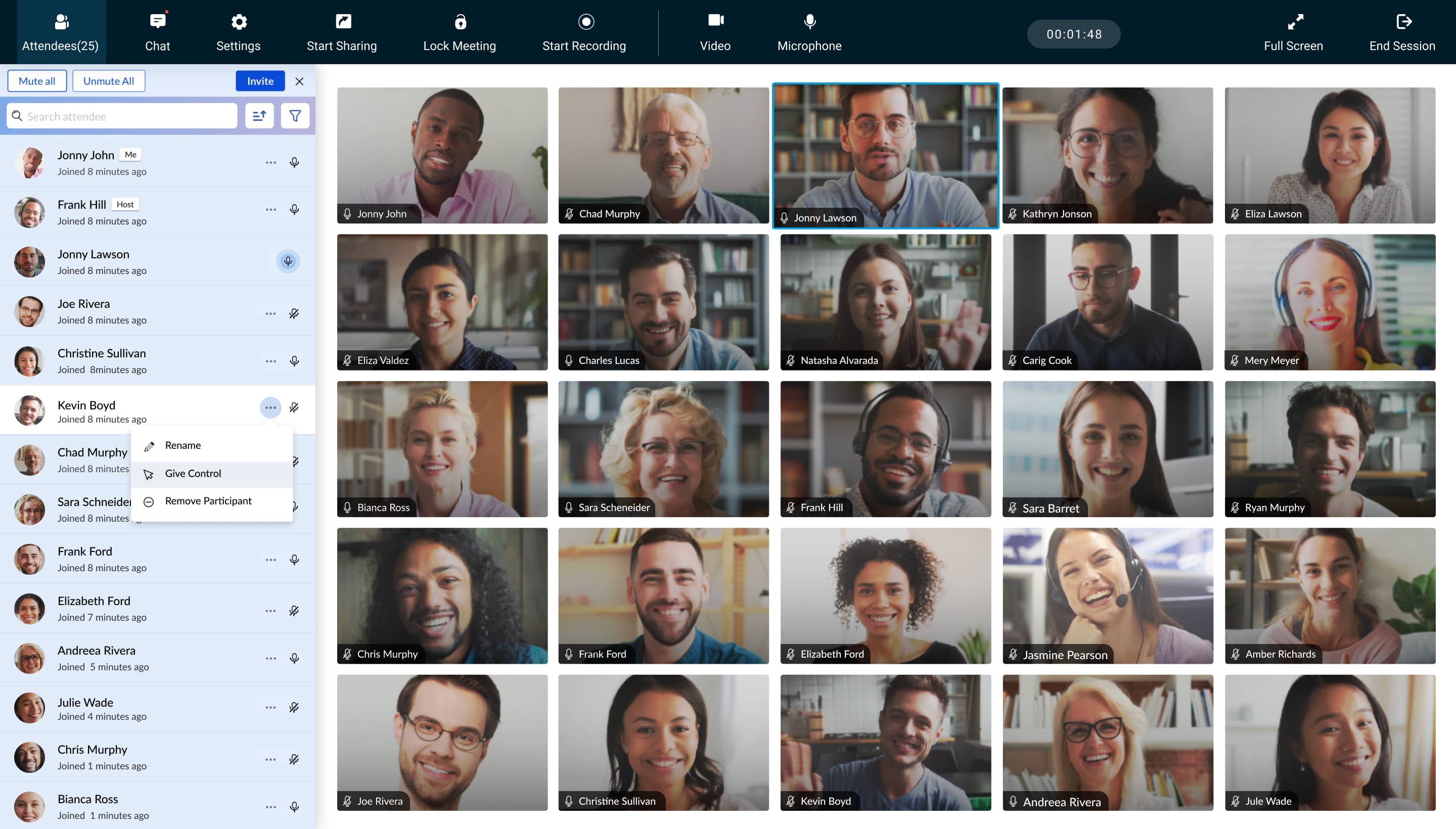 Last but not least, on this list of best Hopin alternatives - Zoho Meeting. It is a very simple yet secure online meeting platform that allows you to host small online events, mostly specializing in webinars.
Despite being very simple and cost-effective, Zoho Meeting offers a number of great features such as customizable registration forms and email invites, live Q&As and polls for engaging the participants, the ability for the moderators to switch speakers, in-session chat, etc.
Zoho Meeting also allows you to record the sessions on a cloud and share them with whoever you want just by sending them a short link - perfect for on-demand content offerings.
The platform also has Chrome and Firefox extensions in order to make things even easier for anyone participating in the event.
Mobile app: Yes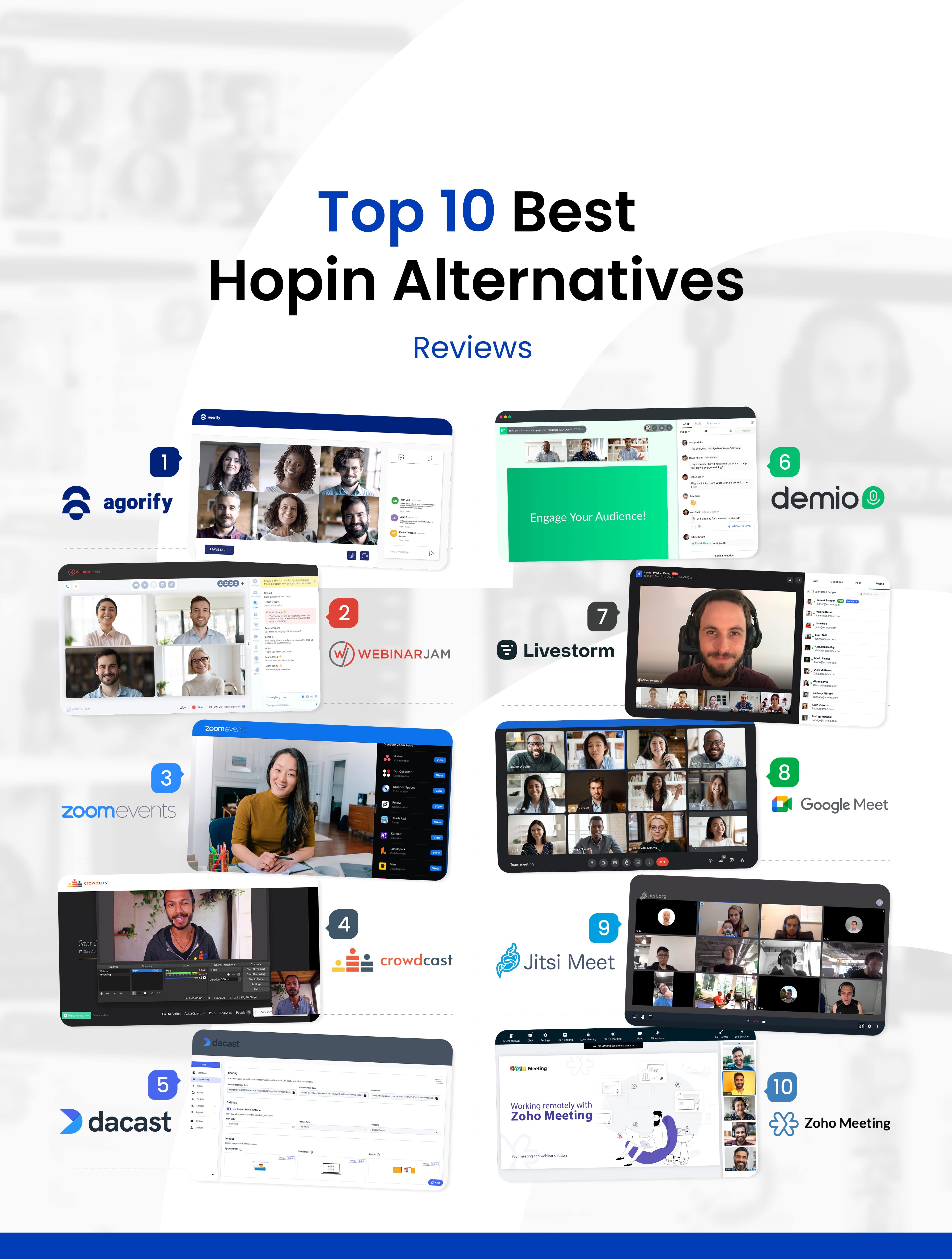 To Wrap Up
Despite being known to be very traditional and sticking to its old ways of operation, during the pandemic the event industry started rapidly adopting digitalization.
Developers started working on cutting-edge event technologies, while event organizers started searching for the best event management platform for their event. Considering that nowadays there are many event platforms similar to Hopin, event organizers might feel confused about which one to go with.
Hopefully, this list of the best Hopin alternatives will ease the choosing process and help you make the right decision.
However, if you are eager to learn more about the first True Hybrid Event platform Agorify that offers an extended event experience then make sure to Book a demo with us!